Nobel Prize Moves the World Forward While Trump and the GOP Move America Backwards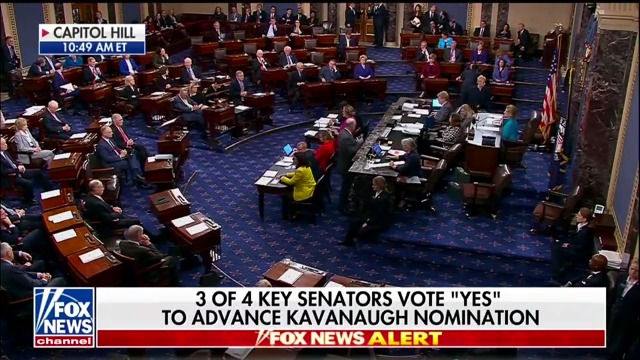 There is a cruel irony playing out Friday. Today, the GOP controlled U.S. Senate voted in favor of the key procedural measure needed to pave the way to confirm Brett Kavanaugh to the Supreme Court, a man whom 45  percent of Americans believe sexually assaulted Dr. Christine Blasey Ford. Per this same Marist poll, only 33 percent of Americans believe that Kavanaugh is telling the truth when he denies attacking Ford. I guess, though, to Trump and the GOP, being seen as honest by 33 percent of Americans is a step up for them since recent polls found only 32 percent of Americans view Trump as honest.
Yet on the very day the GOP is pushing to the Supreme Court a man whom almost half the country believes sexually assaulted a woman, the Nobel Peace Prize was awarded to two people whose work is focused on ending sexual violence against women.
Dr. Denis Mukwege and Nadia Murad were announced today as the recipients of the Nobel Peace prize for their work in protecting vulnerable women against sexual assault.  Mukwege, a Congolese gynecologist, has treated thousands of victims of sexual assault and become an advocate for more legal protections for women from rape.
Murad is an Iraqi Yazidi, who after escaping from ISIS — which horribly oppresses women based on a grotesquely perverted view of their own religion — became an activist to protect women from sexual assault.  Her focus has been "calling on the world to take a tougher line on rape as a weapon of war."
Despite being from different parts of the planet, what these two Nobel prize recipients have in common is helping women who are victims of sexual assault – from treatment to advocating greater legal protections to simply ensuring these women are believed. As Berit Reiss-Andersen, the chair of the Norwegian Nobel Committee, stated, protecting women and holding perpetrators accountable is a "prerequisite for lasting peace."
I'm not in any way even suggesting that what Kavanaugh did to Dr. Ford or other women, even if every allegation is true, amounts to the horror of the use of rape as a weapon of war. But what is relevant is that the Nobel Prize today, just like the #MeToo Movement, is about moving cultural norms forward for the better.  It's about believing victims of sexual assault (women or men) and pursuing justice for them.
As Reiss-Andersen stated on that very point, war crimes and the #MeToo Movement are "not the same thing," but it is important that "women leave the concept of shame and speak up."
But what are we seeing with Trump and today's GOP is the opposite of trying to move cultural norms forward when it comes to female victims of sexual assault. Despite the fact that one in three women will experience  some type of sexual violence in their lifetime, Trump declared this week that, "It's a very scary time for young men in America." Trump then added, "when you can be guilty of something that you may not be guilty of."
Trump, as usual, did not show even a hint of compassion for Dr. Ford. But then again, Trump always sides with the men who abuse women while demeaning the women who come forward. For example, in February, Trump praised his former aide Rob Porter despite two of his ex-wives publicly accusing him of physical abuse. We even saw a photo one of them, Colbie Holderness, with a black eye. And the list goes on of Trump championing men accused of sexual abuse, such as Roy Moore, Bill O'Reilly and Roger Ailes.
Trump also publicly defended Bill Clinton calling his accuser Paula Jones a "loser" and slamming other Clinton accusers as "terrible" and "unattractive." Trump even defended Mike Tyson against rape charges after Tyson was convicted by a jury, and he shamed the rape victim, Desiree Washington, for going to Tyson's hotel room at night.
The reality is that there are some cases of false reporting of sexual assault — but the FBI puts that number at about 8 percent. But to Trump, we should not believe any women who come forward to allege sexual abuse, at least when a Republican man is accused. Of course, Trump had no problem believing the allegations against Democrat Harvey Weinstein.
But overall the news today can be summed up simply this way: The same day the GOP in Senate took the first key vote to confirm Kavanaugh, the Nobel Peace Prize was awarded to two people whose work is about ending sexual violence against women. The world moves forward as Trump and the GOP move America backwards.
Dean Obeidallah, a lawyer, hosts SiriusXM radio's The Dean Obeidallah show and is a columnist for the Daily Beast and a CNN.com Opinion Contributor.
This is an opinion piece. The views expressed in this article are those of just the author.