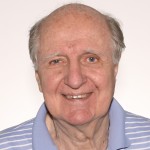 Just as great men stand on the shoulders of giants, so too is history built on what came before. This now-elapsing decade — The Aughts, or whatever you want to call them — has been a decade of change not only compared to the decades before it, but because of them. That said, historian Paul Starr notes an important distinction: "We are seeing a whole series of events in which journalists became important actors themselves. You can't tell the story of what happened without them. You can write about any other period in history and you don't have to mention journalists at all. You can't do that for this period, because journalists were critical actors in those changes." Perhaps that's why now, more than ever, it's important to remember how we got here.
40s
The news business came out of World War II a lot like the rest of the country: proud and confident. More than eyewitnesses, we were cheerleaders, too, rooters for our winning team, with our own stars: Ernie Pyle, Bill Mauldin, Ed Murrow. We trusted our victorious leaders, and even our allies, as we reported on the founding of the United Nations, and for a while eased into a routine of conventional reporting.
But not for very long.
50s
The Cold War started; the Iron Curtain had clanged down, and serious policy questions broke out;. Korea took everyone by surprise; MacArthur saved it, over reached, crossed Harry Truman, got himself fired, returned to a hero's welcome, made a big speech, and then really did, in his own words, fade away. For the first time in years, the press was called upon to report big public controversy — still primarily in print in its traditional straightforward, structured, apparently objective way.
Joe McCarthy changed all that. He bluffed and bullied a gullible, non-challenging press into accomplices for his rampage of scare-charges of Communist subversives in government that ruined careers and wrecked, among others, the Far East sector of the State Department. This turned out to be an object lessen on press responsibility, only belatedly learned and courageously corrected by growing awareness and counter challenges, culminating in Ed Murrow's devastating presentation of the Senator, live, in his own words.
Television started to emerge as a powerful force for institutional change, primarily as a diversion of advertising dollars, and the ultimate destruction of the evening newspapers. With the rare pioneering exceptions of fine documentaries like Murrow and Fred Friendly's Harvest of Shame, and attempts at meaningful public debates, and the pageantry of the coronation of Queen Elizabeth, TV news was pretty much an extension of print; mostly confined to 15 minutes of Douglas Edwards and John Cameron Swayze, reading. The Nixon-Kennedy debate, though, crossed the great divide for TV news, to relevance and importance. People who heard it thought Nixon won; people who saw it, thought Kennedy won. Visual would become the primary force in journalism (as immediacy would soon become its partner).
60s

The shattering events of the 60s changed journalism, and journalists, in range and responsibilities, identity and attitude. The assassinations created an unprecedented climate of urgency, expectation, and existential uncertainty among consumers of the news; words and pictures of the riots created an intimacy with shock. In that context the murder of Lee Harvey Oswald by Jack Ruby on live TV is the historic flash point. People saw history actually happen.
Coverage of the struggle for civil rights, though, brought about the most fundamental change in journalism, as events like sit-ins; live pictures of the beatings of Freedom Riders; Bull Connor, fire hoses, and police dogs at Pettus Bridge changed the attitudes of the nation, their expectations from journalism, and the role of reporters from observers to sympathizers. They became engaged in their stories, and as they did, erased the ephemeral claim to objectivity.
Politics turned rough, at least partly to exploit the divisiveness and fear. Cops and dissenters turned the 1968 Democratic Convention into a near-riot, including the arrest and formal removal of reporters from the floor. Spiro Agnew railed against Nattering Nabobs of Negativism. SDS spawned the underground press, with publications like the LA Free Press and the Berkeley Barb. Tom Wolfe led the way into the highly subjective New Journalism, and Teddy White set new standards for depth and understanding in political reporting.
The news business explored new ranges, less violent, to report. Rachel Carson opened the way to environmental reporting with Silent Spring; Betty Friedan to gender politics with The Feminine Mystique. Hugh Hefner offered the idea of Playboy to Hearst, which turned him down; he went on to do it himself. Cosmopolitan hired Helen Gurley Brown, the editor who turned sex (and eventually prurience) into an overwhelming global publishing commodity.
70s

Advances in applications of technology shaped the news business. Creation of the satellite and the advent of cable enabled Ted Turner to stitch together the Superstation, which made fans of the Atlanta Braves across the country, and got him the money and new skills, to go with his genius gumption, to start CNN – all news, all the time, all over the world. HBO made the first global real-time show of a major event with the Thrilla in Manila (Ali-Frazier), and became the first TV network to continuously deliver signals via satellite.
Publication of the Pentagon Papers, essentially an academic exercise, was an enormous historic advance — and a very brave one — in the affirmation of the press's duty to challenge authority. Watergate, only months later, equally historic, equally brave, was an essentially professional journalistic exercise — advancing in practice from basic shoe-leather reporting to "follow the money" — to the same end. "At the beginning, I don't think Kay Graham and Ben Bradlee had the foggiest notion of what it would turn into," recalls one competitor from that time. "It was just very good reporting, and it drove us nuts."
At the same time, challenge to authority was being expressed in Viet Nam, where reporters — professional descendants of the proud eyewitnesses of earlier wars — held official pronouncements in contempt. They came to call the daily briefings The Five O'Clock Follies; Harrison Salisbury reported from Hanoi; Sy Hersh reported the My Lai massacre; and Walter Cronkite's commentary famously caused Lyndon Johnson to concede that this was a war he could not win.
Affirmations of basic principle aside, historic adjustments were being made on the commercial and operational sides. Newspapers were losing their near-monopolistic claim to revenue from news. Families, once proud and comfortable in their stewardship, were finding the capital costs of keeping up, the threat to future profits, and generational dissent, all creating good reasons to sell to money-minded chains , where reality dictated that cost control weighed heavily against pricey journalism..
News was growing into a powerful money-maker for TV, and producing star-wattage personalities, who were making a lot of that money for themselves. The defining event was the hiring of Barbara Walters from NBC by ABC for the first million-dollar contract for a journalist, and altered many a career objective.

80s

The Reagan years were big for news, with the tearing down of the Berlin Wall, Iran Contra, and the Challenger disaster, but a lot less dramatic for the media business itself.
Less dramatic, yes, but powerfully significant for the quality of reporting that: the enormous range and capacity for research created. The Internet was just getting started, and the organizing of research into ready accessibility, was making instantly available unprecedented depth and quality of fact, context, and interpretation.
90s
It was a fat time for television, where news as entertainment brought in new highs in profit, and made millionaire celebrities of its stars. Crossfire began, and talking heads became loud, shrill, and profitably entertaining.
The task of filling the giant 24/7 hole with news stretched severely thin the quality of journalism, though. For all its value, the Internet's capability to move things quickly without full sourcing and to distribute them widely, facilitated the deterioration. The need to fill the hole invited superficiality and scandal, opened space for wild opinionating, put a premium on commentary over reporting, created a preference for anticipation and intolerance for explanation. The O.J. Simpson murder trial set the scandal meter at an all-time high – until the Clinton scandals overtook it, and made Drudge the dominant personality in the media world. Historic, in a way. Washington reporters wondered why the reporting on sex scandals was wide open now, when as recently as Jack Kennedy, it was simply not done.
The newspaper world obsessed with figuring out how to get back the revenues they lost to Craig's List, and many of them could not. Real panic started to set in. Preparations began for the Aughts and dark days to come of layoffs, buyouts, and closings. Technologists — masters of the new universe of algorithms — got ready to take over.
And they did.
I did not quote anyone by name, except for Paul Starr, but I would like to acknowledge the great help from the following, in preparation of this post: Paul Starr, Stephen Engelberg, Ralph Engelman, Charles Bierbauer, Bob Semple, Alex Jones, John Darnton, Rachel Rich Fine, Geneva Overholser, Elliot King, Sidney Offitt, .Jim Srodes, Tom Fleming and Geoff Smith.
Bill Rappleye has spent the last 60-plus years in journalism. Read more about him here.
Have a tip we should know? tips@mediaite.com