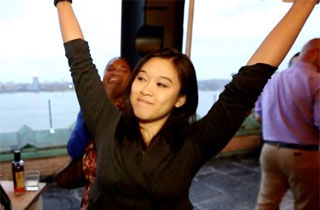 Today is my last day at Mediaite.
Some people might not be aware that I migrated over here from our sister site The Braiser a year ago. (That's actually a photo of me, mid-triumph, after I ate a pig eyeball on a dare. It ain't bad.) Some people may wonder why I'd give up a job writing about nice food in order to wallow in the muck of cable news, sex scandals, and the occasional dumb boob joke.

Strangely, I wanted to do it. I wanted to do it real bad. And so I annoyed my bosses into letting me write here.
And what a ride it's been: covering breaking events halfway across the globe at 7 a.m. Discovering which female world leaders got edited out of internationally-covered free speech rallies. Trying desperately to not write Hannity/Netanyahu erotic fanfiction. Demanding to write erotic fanfiction about Aaron Schock. And countless other memories, lost, like tears in rain. Also, I got to yell at Bill O'Reilly to his face. To his face! (No, I don't have PTSD flashbacks thinking about that taping of The O'Reilly Factor.)
This couldn't have happened without the help of a lot of people, so here's the part where I thank them:
To Dan Abrams (and the dearly departed Bridget Williams and John Vorwald) thanks for taking the chance on me and letting me move to Mediaite. I'm glad it paid off.
To my wonderful boss, Andrew Kirell, I give you my chair. It is the best chair in the office, a meager gift to thank you for your superior editing skills, your genuine concern for your employees, and your hatred of the gerund. If you would like to make the chair a prize in an Abrams Media Hunger Games, it's certainly your prerogative.
To Jon Nicosia, my managing editor and Boston homeboy, I give you the seven feet of snow that I shall never see again.
To my fellow editors — Evan McMurry, Matt Wilstein, Josh Feldman, and the on-hiatus Andrew "Andrewcito" Desiderio — I give you my gratitude for those long hours on Slack, made entertaining by your rapid-fire wit. Gentlemen, it's been an honor blogging with you, and I'm sad that we shall not slog through the endless 2016 election cycle together, though I'm sure we'll inevitably yell at each other on Twitter at some point.
To our newcomers — Ken Meyer, Andrew Husband, and Jamie Frevele — I give you my haters. They're harsh, but they will burn the impurities from your flesh and mind, and turn you into Men, as they did unto me.
And to the comment-section dwellers: thank you for providing my mother with endless hours of entertainment. Your filthy jokes, frivolous sniping and radioactive debates in the comments section made her laugh so much, it may have helped her beat cancer. (You Patch Adams'd her!)
I'll miss you guys, too, so come hang out with me at Vanity Fair, where I'll be blogging about the news starting later this month. And please be kind to my replacement here, who will inevitably be a guy named Andrew.
XOXOXOXOX,
Tina
[Featured image via screenshot/the silliest musical of all time]
—
>> Follow Tina Nguyen (@Tina_Nguyen) on Twitter
Have a tip we should know? tips@mediaite.com