(UPDATED) Soledad O'Brien Invents 15 Point Lead For Obama In Virginia During Interview With Gov. Bob McDonnell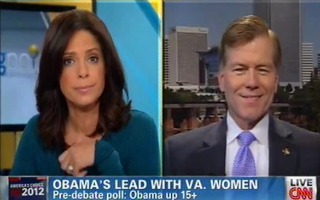 In an interview with Virginia's Republican Gov. Bob McDonnell on CNN Thursday morning, Starting Point anchor Soledad O'Brien quizzed the governor on the status of the presidential race in his state. She asked if he was concerned that Republican nominee Mitt Romney will be unable to best President Barack Obama in his home state given that he has only three weeks to overcome Obama's staggering 15 point lead. The only problem with that assessment is that the president has never held that wide of a lead over Romney in Virginia. Furthermore, the last three polls of the state show Romney overtaking Obama.

"How worried are you that your state is going to go for President Obama when the polls show a significant lead pre-debate, after the first pretty awful debate," O'Brien asked.
"I'm not sure what you're looking at there, Soledad," McDonnell said in reply.
O'Brien's claim was backed up by the CNN chyron which read "pre-debate poll: Obama up 15+" but specified that the lead was among women (based on a New York Times/CBS/Quinnipiac University poll taken from October 4 – 9). Why CNN would opt to focus on women from an unnamed poll is unclear, unless they chose not to highlight the topline numbers in the state which are not encouraging for the president's supporters.
As POLITICO's Dylan Byers notes, the state of Virginia has been trending towards Romney for several weeks. Furthermore, Obama never held a 15 point lead against Romney in the Old Dominion State.
Current polling in Virginia puts Obama and Romney almost dead even, with a slight edge for Obama. But for the record, Obama has never led Romney by 15 points in Virginia, according to any 2012 poll. The last time he led Romney by double digits was in May 2011, roughly one year before Romney became his party's nominee. The Quinnipiac poll O'Brien cited has Obama up by five, a recent NBC News/WSJ/Marist Poll has Romney up by one.
Furthermore, a shocking report in the National Journal on Wednesday revealed that the Obama campaign is shifting resources away from states like Florida, North Carolina and Virginia in order to reinforce the president's "firewall" in states like Ohio, Iowa, Nevada and New Hampshire.
UPDATE: a spokesperson for O'Brien writes:
"In my interview with Governor Bob McDonnell this morning, I was citing the pre-debate Quinnipiac poll on women voters (October 4-9, 2012 — 56 for President Obama, 40 for Romney), and while the information on the screen said 'women,' I didn't say the word. I was in error to not say the word 'women,' while it appeared on the screen"
Watch the clip below via CNN:
Editor's note: This post has been edited since its original posting – Jon Nicosia
h/t POLITICO
> >Follow Noah Rothman (@Noah_C_Rothman) on Twitter
Have a tip we should know? tips@mediaite.com