State Dept. Spokesperson Squirms, Eventually Contradicts Obama: Egypt Is An Ally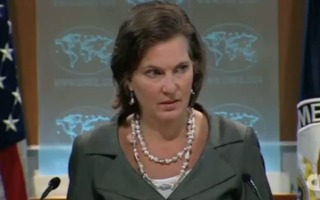 As the fallout surrounding President Barack Obama's assertion that the present Egyptian government is not an ally of the United States grows, the U.S. State Department has offered a correction to the president's claim. After being grilled by a reporter on the status of Egypt's relationship with America, a State Department spokesperson said clearly "yes," Egypt is an ally.

RELATED: Obama's Horrible, Gaffe-Laden Week Goes Unreported
Following President Obama's ill-advised comments putting into question the relationship between Washington and Cairo yesterday, a White House spokesperson was forced to clarify those remarks in an interview with Foreign Policy Magazine.
"I think folks are reading way too much into this," White House spokesperson Tommy Vietor told Foreign Policy. "'Ally' is a legal term of art. We don't have a mutual defense treaty with Egypt like we do with our NATO allies. But as the president has said, Egypt is longstanding and close partner of the United States, and we have built on that foundation by supporting Egypt's transition to democracy and working with the new government."
When asked to further clarify President Obama's comments about Egypt's relationship with the United States, State Department spokesperson Victoria Nuland first tried to direct the reporter's questions to the White House. The persistent reporter, however, did not accept that answer and pressed further.
"So forget about the president's words, you're saying that the administration, the State Department still regards Egypt as a non-Nato ally and is still a recipient of all the privileges that that entails," the reporter asked.
"Yes," Nuland replied.
Watch the press conference below:
h/t BuzzFeed
Have a tip we should know? tips@mediaite.com