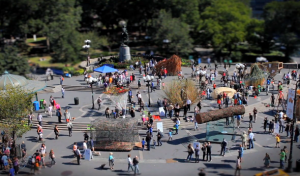 The Jewish holiday of Sukkot is kind of like the red headed stepchild of the Jewish calendar.
The holiday recalls the ancient Jews' 40-year journey through the desert to the promised land. To commemorate their ancestor's experience, modern observers build a temporary hut — sukkah in Hebrew.
Perhaps because of its unfortunate timing — just five days after the much hyped, widely observed holy fast day Yom Kippur — Sukkot is frequently overlooked by most Jews in America.
But for a relatively obscure Jewish holiday, it has received a lot of attention this year.
First there was the announcement from the national Transportation Security Administration, reported by JTA, permitting Jewish travelers to carry the four species — a palm branch, myrtle branches, willow branches and a citron — through airport security over the holiday period. TSA has issued similar alerts for a few years, but the announcement still managed to make the rounds on Twitter.
A few days later, U.N. observers highlighted Israel's absence during Obama's speech to the General Assembly. The LA Times blog Babylon & Beyond wrote: "President Obama's call Thursday in an address before the U.N. General Assembly for Israel to extend its West Bank construction moratorium got little reaction from the Israeli delegation. That's because they weren't there."
The reason? Sukkot observance, an unnamed Israeli official told Foreign Policy's The Cable. The official said, "We excused ourselves in advance to the U.S. delegation to the U.N. and the administration and explained it is the Jewish Holiday."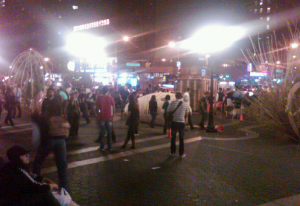 Not everyone bought it, though. Politico's Laura Rozen wrote on her blog that Israel's absence "does not seem to be fully explained by the Sukkot holiday." Rozen pointed out a few "exceptions," such as Israeli President Shimon Peres' participation in a panel at the Clinton Global Initiative meeting. These other public appearances by Israeli officials "only seemed to reinforce the sense that Israel was deliberately ducking a major profile in New York this week," wrote Rozen.
But it was the international design competition Sukkah City that really took the media coverage cake. The U.N. debacle and the TSA announcement were the sort of thing you could have easily missed if your online social networks didn't somehow catch wind of them. But with its broad appeal (capturing the imagination of designers and architects) andphysical presence in New York's Union Square, Sukkah City was covered and linked abundantly.
Back in June, the Wall Street Journal previewed the competition, describing it as an invitation "to grapple with the highly detailed, Old Testament rules governing sukkah construction, and reimagine those limits 'as the foundation for new liberties and abilities.'" And even before New Yorkers voted for a winner, the contest received a steady stream ofcoverage.
Aside from these stories, there's also been the usual sprinkling of coverage that goes something like: hey, it's this Jewish holiday, here's what it's all about.
So is this a brief uptick in attention or a gradual shift to elevate Sukkot from the obscure to the familiar? It might be the latter if Sukkah City co-founders Joshua Foer and Roger Bennett's plans to expand the festival globally work out.
In an interview with Archinect, Foer, a journalist and the founder of Atlas Obscura, said, "Next year Sukkah City goes global. We'll be helping to pair architects with communities around the world in search of architect-designed sukkahs. We've already been contacted by Melbourne, Baltimore, San Francisco, London, and Kinshasa. Actually, we haven't heard from Kinshasa… yet."
Next up: Tu Bishvat goes viral. Watch this space.
Related:
Union Square's High-Concept Sukkahs [The Forward]
Injecting a Sense of Play in Religious Tradition [NYT]
Sukkah City NY2010 [SukkahCity.org]


Jaclyn Schiff is a writer, reporter and media consultant based in Washington, D.C. Her work — which often covers media, global health and women — has appeared in several publications, such as CBSNews.com, The Huffington Post, NPR, PBS MediaShift and Women's eNews. Find her on Twitter or Tumblr.
Have a tip we should know? tips@mediaite.com