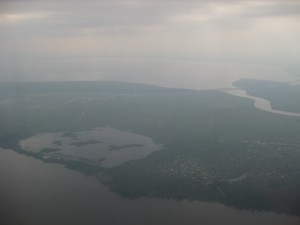 My first introduction to New Orleans was from the air, flying high over the city with a view of the land – and water – below. Couldn't help but feel a little like George Bush. I had just seen Harry Shearer's documentary, "The Big Uneasy," part of which was a discussion about engineering failures in the city, way before Katrina, relating to how it handled all its water – holding water back instead of finding ways to bring it through the city in controlled ways via canals, like the Dutch. Flying over New Orleans on our approach, I got it. There was no view of land without water – water in the great looming form of Lake Pontchartrain, water cutting through in tributaries, water flowing beside a long stretch of highway, water just – everywhere.I saw water in every possible view — and every time I looked to the book on my lap and looked back up, it was completely different — and the only time I could not see water was literally when the wheels of the plane touched the ground (about ten seconds before we landed, I wondered how on earth an airport could exist in a marsh). Before that, from my front-of-plane, right-side window JetBlue window seat, I could see water out my window at all times. It was quite extraordinary.
On the ground in New Orleans, this is a city that is clearly back and functioning, but the scars are real and visible — and even more visible depending where you go. 80% of this city was underwater when the storm hit and the levees gave. I visited the Lower 9th Ward yesterday, and there they were — the levees that were breached as the waters rushed over, flooding that already poor neighborhood into near-oblivion. Even though I was amidst the rebuilding efforts of Make It Right — and some terrific-looking new homes, up on stilts, with open roof access now mandated because of tough lessons learned — there were also vacant lots, abandoned homes, and the signs of water damage everywhere. Driving there I saw a big red-brick building that looked like a school, with broken windows and boarded-up parts, clearly abandoned. So the notion of "recovery" here must be tempered by what still remains damaged, unrepaired or worse, gone forever.
By the way, the book on my lap was The Great Deluge: Hurricane Katrina, New Orleans, and the Mississippi Gulf. And the cover looked oddly familiar from my vantage point.
Here are some of those photos below. More from New Orleans to come.

Have a tip we should know? tips@mediaite.com