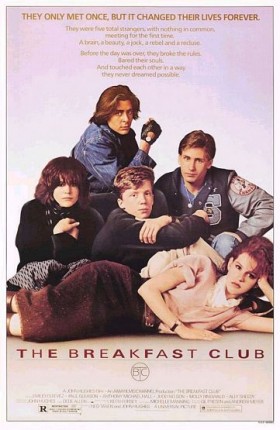 Before Gen Y, the voracious creators and consumers of social media, came Gen X, who built the infrastructure on the web that made social media possible. Where these generations intersect is through the movies of John Hughes, who suddenly passed of a heart attack while on a morning walk today in Manhattan, at the age of 59.
Hughes movies spanned from domestic gender role comedies like Mr. Mom to classic road movies like National Lampoon's Vacation (for which he wrote the script), to the 90s Home Alone franchise.
But what really defined Hughes was his coming-of-age teen angst classics like Sixteen Candles, The Breakfast Club, and Ferris Buellers Day Off. My contemporaries grew up on those movies and saw ourselves in Anthony Michael Hall's unrequited young love for Molly Ringwald. We could relate to the vicious social cliques and the politics of high school that The Breakfast Club explored and broke down. We all wanted to be Ferris Bueller and escape from boring classes, outsmart nasty principals, and sing on a giant float with fetching German lasses.
It's unlikely that the teens of Hughes' films could exist today. Being stuck in a school library on a Saturday for detention wouldn't be quite the same punishment – between iPhones and Blackberries they'd never actually have to talk to each other. Ally Sheedy would be updating her Facebook status and posting to twitter about how bored she was while Judd Nelson texted Molly Ringwald something creepy. The nerd would probably be in the back creating a new app.
Ferris would never have been able to keep his location secret, someone would have snapped a picture of him on the float and posted it on Tumblr, or shot a video with their iPhone GS and posted it straight to YouTube. Simone would have been so overwhelmed with how much fun she was having she wouldn't be able to resist checking in on FourSquare about her dinner with the Sausage King of Chicago and that Cubs game at Wrigley Field. Anyhow, that probably would have been the first place Jeanie checked. Busted!
Those teenagers existed in a snapshot of time – the 80s – but today when the news about Hughes broke, people from all walks – including kids who came of age a decade or more later – were posting those same stills from the Breakfast Club or Pretty In Pink. The hairstyles may be dated, but the essence of the characters remains relatable for anyone who's been through it.
That, incidentally, includes a whole lot of the people creating those movies for a new generation. From the LAT:
"[I]t's hard to find a thirty- or fortysomething writer or filmmaker who doesn't credit Hughes as a seminal figure in their movie education. "You see Hughes' influence on all TV comedy, especially the stylized single-camera comedy," says Apatow. "His great film characters, starting with Anthony Michael Hall in 'Sixteen Candles,' were big inspirations. When we were growing up, we were all like Hall — the goofy skinny kid who thinks he's cool, even if nobody else does. 'Superbad' has that same attitude, that mix of total cockiness and insecurity."
People like Kevin Smith and Diablo Cody give Hughes credit as an inspiration. Wrote Cody this afternoon on Twitter: "Truly saddened by passing of John Hughes. Was an idol to this magna-zoom-dweebie."
Hughes joins a sad list in a strange summer where we're losing icons of past eras, like Michael Jackson and Farrah Fawcett. For the 80s, though, Hughes encapsulated that decade like no other. His films were a kaleidoscope of fashion, fears, hopes and kitsch from the decade of where we played Pac Man and wondered if any moment the Russians would drop a nuclear bomb on all of us.
He leaves behind a wife of 39 years, Nancy, two sons, John and James, and four grandchildren and a résumé of films that serve as a reminder of what it was like to be young and anxious in the 80s.

With Rachel Sklar, whose grandmother mercifully never felt her breasts.

Have a tip we should know? [email protected]