"The Kids Are All Right" Writer Stuart Blumberg: Bi-Coastal, Multi-Tech and DIY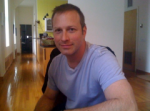 Stuart Blumberg is suddenly an authority on the modern — or dare we say, post-modern — family, thanks to the critically-acclaimed debut of his new film, The Kids Are All Right. (Yes, the one about the two long-term-partner lesbians whose children want to meet their sperm-donor father. Hijinks ensue. Very attractive hijinks, considering the film stars Annette Bening, Julianne Moore and Mark Ruffalo.) The film has gotten raves for it's smart, funny take on a new sort of modern family — but Blumberg, who co-wrote the film with director Lisa Cholodenko, is no stranger to finding the funny in barrier-crossing relationships, having broken out over a decade ago with the hit (and fan favorite) Keeping The Faith (about a rabbi and a priest both in love with the same shiksa. Hijinks ensue!). In between Blumberg has tried his hand at the heartwarming tale of The Girl Next Door (yes, that Girl Next Door), and co-produced the critically-acclaimed HBO documentary By The People: The Election of Barack Obama, with his longtime producing partner, Ed Norton (yes, that Ed Norton). We thought the multi-talented, multi-hyphenate Blumberg would be a perfect person to quiz about his work habits. So, we did!
As a creative person working on a number of different projects but operating as a solo practitioner, for all intents and purposes, how do you structure your work life? Do you have an office? An assistant? Or just a very trusty laptop?
I am far to DIY for my own good – I do my own scheduling, online ordering, laundy, cooking. The only thing I don't do is write. For that, I pay this amazing 16 year old named Raj who lives in Bangalore, India. For twenty bucks an hour he churns out amazingly nuanced American dramedies… No, no, I write in the mornings from 8-1 and that's pretty much all I can do. The afternoon is devoted to the chores, errands, calls, emails, gym, guitar playing and the occasional nap…
You are also pretty bi-coastal, zinging back and forth from New York to LA. How easy is it to find focus for solo creative work between travel, meetings and jet lag?
Over the years, I've gotten better at carving out times for meetings and then hunkering down with no distractions (on either coast) and just plowing through the work.
Let's talk about The Kids Are All Right (congratulations!). You co-wrote this with Lisa Cholodenko, who also directed the film. What was your process like for writing this together? And did that process continue on while she was directing as you tweaked, or did your part end when the script was done?
We spent months on the outline, months on the first draft (back in '05). We sat side by side for months on end, pounding it out together. Every single scene, character, line was reworked at least ten times. That work continued through production. I was on set every day, re-working scenes. It was non-stop.
You've been doing this for a while, having written Keeping The Faith over a decade ago. While basic word processing hasn't changed much during that time, all sorts of other technology has. How do you integrate technology into your work?
Skype is my new BFF – I'm currently collaborating with someone in LA on a script. We work for 2 hours a day and there's no commute. It's awesome. We both sign on and with screen-sharing we can both view the script on a real time basis as I type away. I love it.
You switched hats and co-produced By The People , the election 2008 documentary about Barack Obama. First of all, how the heck does that happen? Second of all, did it blow your mind or were you too busy with the details to think, wow, we're chronicling a pretty historic event?
My very good friend Amy Rice approached me in 2005 and said, "Hey, I think this cat Barack Obama is gonna run for President, I think he has a shot, and I think we should make a documentary about it. I took the idea to my producing parter, Edward Norton, who was totally down with idea. We approached Barack when he was still a junior senator getting his sea-legs, pitched him the idea, and he was nice/naive enough to agree to it. And yes, we knew we were chronicling a major historical event. That's the angle we pitched investors to part them from their money.
You've worked with some pretty amazing people – your frequent collaborator and pal Ed Norton many times, Ben Stiller in Keeping The Faith, Annette Bening, Julianne Moore and Mark Ruffalo in The Kids Are All Right – and, of course, a half-naked Elisha Cuthbert in The Girl Next Door. Oh! And freaking Eli Wallach in Keeping The Faith! And Anne Bancroft! Wow. Who would you love to work with in the future? Anyone specific on your wish list?
Meryl Streep, Henry Winkler….and Meryl Streep playing Henry Winkler…
You're from Cleveland. How do you feel about LeBron?
That's personal. It's not just the basketball. About seven years back, I lent him a couple of my CDs and he never returned them, and frankly, that just hurt.
Which family is crazier, your movie brood or the Palins?
I don't like the word crazy. It has too many bad connotations. I prefer the term batshit-loco. And that would be the family from Alaska.
This post was reprinted with permission from Rypple.com and its "I ♥ Work" series.
*****
Watch for Blumberg's upcoming projects, including one on a subject dear to Canadian hearts: Hockey! He's working on the remake of Slapshot. Awesome. Sample a diverse array of Blumberg's work below — let's hope it's the only time Obama is linked to a porn star.
Trailer: The Kids Are All Right


Trailer: Keeping The Faith


Trailer: By The People: The Election of Barack Obama


Trailer: The Girl Next Door
Have a tip we should know? tips@mediaite.com