The Unbreakable Record: Ted Cruz's 21-Hour 'Filibuster' Nothing Compared to Another Fellow Texan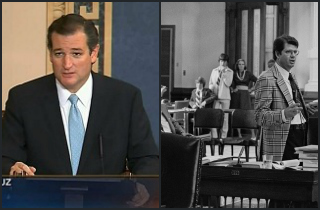 I admire Ted Cruz.
I admire Wendy Davis.
I admire Rand Paul.
So of course, I admire Cal Ripken.
All tested the limits of the human body. Whether it is accomplished by filibuster (or however you wish to define what Cruz performed on the Senate Floor for 21 hours) or consecutive games on a professional sports level, what each accomplished physically through mental strength is something to behold regardless of ideology.
To avoid muddying the water, politics won't play a role in this column. Instead, I'd like to use the space to share the story of Bill Meier.
Meier, like Cruz, hails from Texas and served as a State Senator from 1973 to 1983. One late afternoon back in May of 1977, just as a regular session was about to close, Meier spoke for forty-three friggin' hours to protest a worker's compensation bill he deemed as "anti-business". The procedure worked, as he succeeded in blocking the bill from consideration.
Meier, like Ripken (who started in a major-league record 2632 straight games for the Baltimore Orioles), not only broke the previous filibuster record, he annihilated it. The previous best was held by U.S. Senator Strom Thurmond, when the now-late Republican from South Carolina spoke against the Civil Rights Act of 1957 (when, as reader Tenth Justice points out, was a Democrat at the time of the filibuster).
Everyone says Ripken's streak will never be broken. And after seeing the efforts of Cruz (21 hours, 19 minutes), Davis (11 hours, 39 minutes), and Paul (12 hours, 52 minutes), it's a no-brainer that Meier's record is safe as well.
So how did he do it? After all, filibusters may be tougher than a triathlon in the following respects:
(A) You can't sit down.
(B) You can't use the bathroom (although the 50-year-old Davis was wise enough to use a urinary catheter).
(C) You can't eat (which would put my filibuster limit at about 5-6 hours).
At the time of his filibuster, Meier was 36 years old. Not young, not old, either. But think about what 43 hours straight of doing anything is: If you're reading this in New York City, it would be like getting in a car and driving non-stop until hitting, ummmmm, San Francisco.
The bathroom issue: Maier solved this by wearing what he called "an astronaut bag" hooked to his leg under his pants to offer an avenue of relief when needed. The thought here was the pants were not white (because, you know, it was before Memorial Day).
The standing issue: Meier wore slippers while Cruz and Davis wore black and pink sneakers, respectively. Paul is the most impressive in this regard (and arguably, the least prepared) by wearing his usual dress shoes. Hope they were Johnson and Murphy (from experience, these rival my New Balances in comfort).
The eating issue: Mahatma Gandhi once survived by not eating for 21 straight days in protest. He was 74 at that time. That said, I recently underwent a colonoscopy, which entails not eating for about a day as you violently prepare/cleanse your colon for the endoscopy. And when it was all said and done, I ate like Kirstie Alley after the Jenny Craig contract runs out. The 20 oz. steak-followed-by-carrot cake never tasted so good…
"I admire his (Meier's) iron will," Ms. Davis, a fellow Texan, said in a statement after she completed her marathon. "I hope neither I, nor anyone else, has to beat his record anytime soon."
Not surprisingly, Meier–despite being well past retirement age (73)–is still working and serves as a Justice to the Texas Second Court of Appeals.
Back to the future, Cruz was impressive today as he finally ran out of gas around noon.
The same can be said for Davis and Paul.
But 43 hours?
Bill Meier, like Cal, owns one of the few records in professional or political sports that cannot and will not be broken.
— —
>> Follow Joe Concha (@ConchSports) on Twitter
Have a tip we should know? tips@mediaite.com