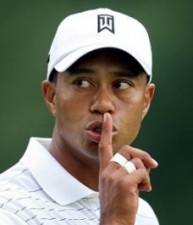 Tiger Woods' fall from media, merchandising and marketing grace began on the day after Thanksgiving and continued in an awkward, extended arc as more and more revelations (and mistresses) came to the fore — and then, as more and more sponsors started falling away.
One of those sponsors was Accenture. Per Abe Sauer at Brandchannel:
Tiger Woods' most recent relationship disaster is his six-year endorsement deal with consulting firm Accenture. Unsurprisingly, the Accenture brand is taking a beating in the wake of the recent scandal, especially for its slew of now-hilarious ads drawing comparisons between Woods' golfing talents and the consulting brand's consulting abilities — such as crisis management.
Oops. And this, from Tim Arango at the NYT:
Mr. Woods had been featured in Accenture campaigns with the tagline, "Go On. Be a Tiger," splashed in business magazines and airport waiting rooms since 2003.
Er, rawr? More like "ouch." But on the bright side, Accenture's decision was two weeks ago — plenty of time to get those pesky posters down before the rush of the holiday season, right?
Alas, not so much. Which is why I stopped in my tracks and gasped in the Dallas-Fort Worth airport at a poster of Woods standing amongst giant, proudly towering cactii that could not but remind the viewer of giant, proudly towering phalluses: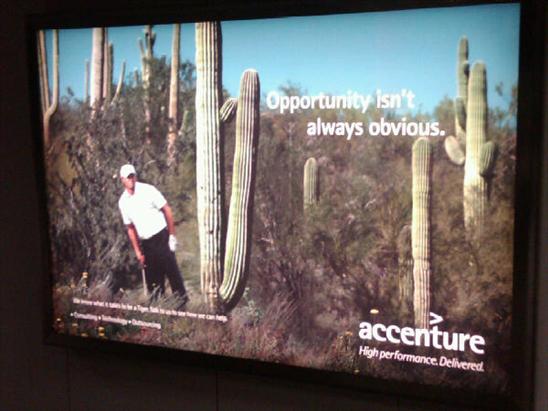 Slogan: "Opportunity isn't always obvious." Punchline: "No, especially when you fly to Australia for it and have it erased from answering machines." Again, ouch.
This next awkward poster was found by Todd Levin, a writer on The Tonight Show with Conan O'Brien,  and tweeted accordingly (hat tip: Sean McCarthy). Here Tiger is contemplating how best to get into that crevasse. Tagline: "It's what you do next that counts."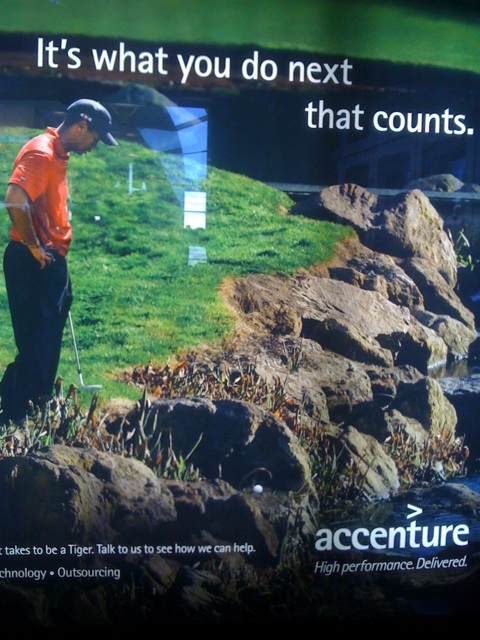 (Oh come on, you saw it too.)
The airport billboard cycle does not move nearly as fast as the news cycle, especially in our wonderful new end-of-Aughts age of 24/7 cable and second-to-second Internet.  Not that Accenture can't turn this one into a positive; it's what you do next that counts.
p.s. I was reminded of this last night idly flipping through channels — I stopped on the face of Charlie Sheen, filling the screen. He was on the phone, making a date with a woman, as the laugh track surged in the background. Only a few hours before I had watched a report on HLN (or maybe CNN) (probably both) detailing his wife Brooke Mueller's 911 call, saying he was threatening her with a knife. So far it hasn't affected the ratings for 2 1/2 Men, but will it? A question for the next decade, methinks.
Have a tip we should know? tips@mediaite.com