Trump Campaign Manager Defends Black Community Remarks By Saying 'I'm White, I Was Moved'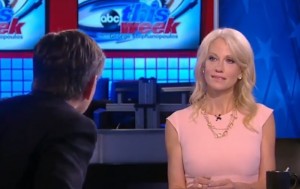 Republican presidential nominee Donald Trump has created quite a stir this week with his odd show of outreach to black voters, and on Sunday morning, freshly-minted Trump campaign manager Kellyanne Conway picked an odd way to defend Trump's comments. This Week host George Stephanopoulos told Conway that many were offended by Trump's generalizations about poverty in the African-American community, and Conway responded by pointing out that she lives in a white community, and found the remarks quite compelling:
STEPHANOPOULOS: As you know — you were just talking about that. But many in the African American community saw that as insulting because they say most African Americans don't live in poverty and that Mr. Trump was making those comments in communities that are more than 90 percent white.

CONWAY: Those comments are for all Americans. And I live in a white community. I'm white. I was very moved by his comment. In other words, he is trying to tell Americans that we can do better. And the thing that he said that I think got a great deal of resonance is that maybe Hillary Clinton looks at you as voters as your — takes you for granted. I look at you as people.

And you — again, George, if you think 58 percent of unemployment in the African American youth community is a good idea, then absolutely please go vote for Hillary Clinton, everyone.

But he's saying, you can't do any worse.
Trump's attempts at outreach to black voters have also come under criticism because they have been made in front of almost entirely white audiences. CNN checked.
This is an opinion piece. The views expressed in this article are those of just the author.