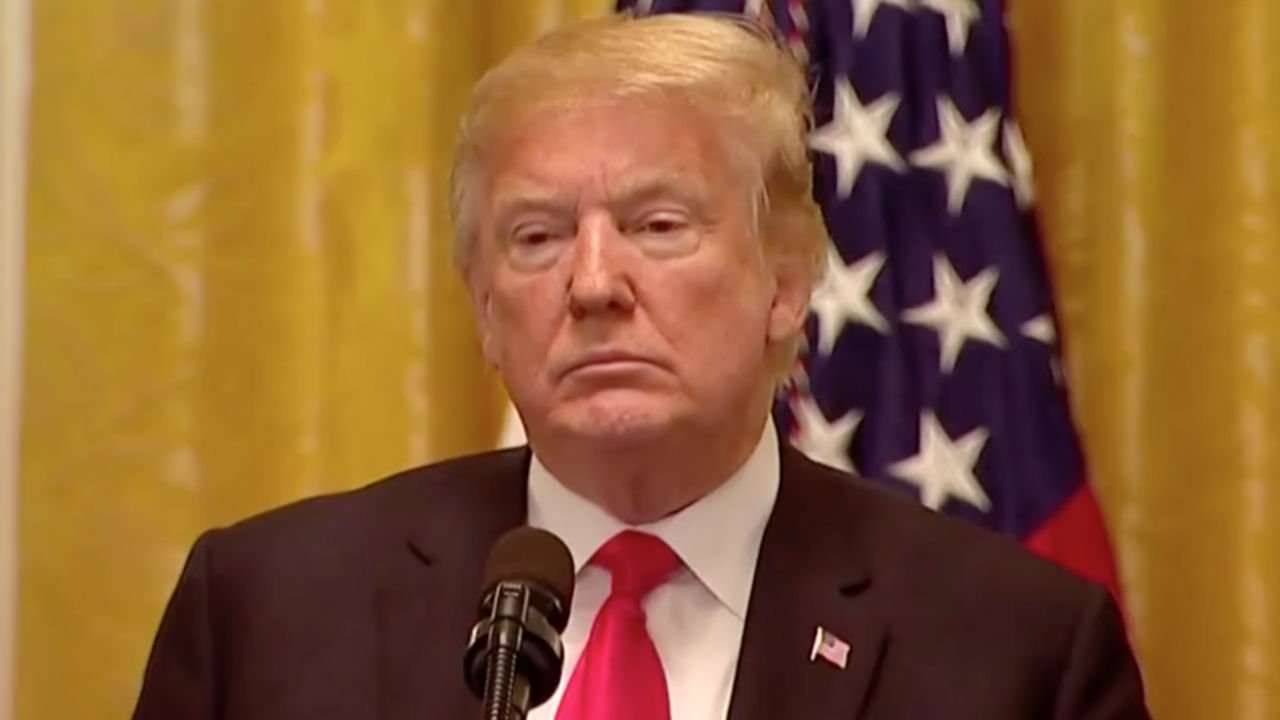 On Thursday afternoon, gunfire rang out within the newsroom of the Capital Gazette in Annapolis, MD, leaving five employees dead. We know now that the alleged perpetrator's motive appears to have been vengeance for a years-old story the publication ran on his conviction in a harassment case. And while it was inevitable that the public would jump to the conclusion that the attack was incited by President Donald Trump's incessant haranguing of the press, we also know that was not the case.
Yet three days before at a South Carolina rally, Trump stood before a crowd, pointing at the press, calling them "the enemy of the people." It was only the latest in his continuing barrage of verbal assaults on the media that began with his campaign for the White House and stirred his base to rage at the reporters.
His remarks just over 72 hours later in the wake of the harrowing massacre carried a vastly different tone.
"Journalists, like all Americans, should be free from the fear of being violently attacked while doing their job," he said during a briefing Friday.
He's right: Every single reporter should be able to conduct their work without fear, yet consider the source and those words suddenly sound blatantly cheap to anyone who's been keeping track of his methodical and repetitive denigration of the media.
As he uttered that line, on his Twitter feed remains an edited video portraying his face superimposed on a wrestler punching another man, whose head is the CNN logo.
#FraudNewsCNN #FNN pic.twitter.com/WYUnHjjUjg

— Donald J. Trump (@realDonaldTrump) July 2, 2017
Unless the president is now disowning his statement from earlier in the week, not to mention years' worth of disparagement of the press, his change of heart is superficial at best.
Are journalists now expected to trust his message? Let's get real: He issued a statement as any self-respecting authority figure would following a horrific event, and it appears to be the first time he's advocated for protection of the press.
However, following news of the shooting, journalists began sorting through their inboxes and their memories, recalling threats old and new. Some reporters tweeted them out while the Huffington Post compiled screenshots of menacing emails into an article for readers to see. It was a collective coming clean about the day-to-day realities of the profession, forcing some to realize they'd almost trivialized the messages until this moment.
The Annapolis shooting is every journalist's worst nightmare. Like many of my colleagues, I have received death threats, and I have no illusion that this could never happen to me. I live in the U.S. The only reason I have not been shot is that nobody has yet decided to shoot me.

— Mark Joseph Stern (@mjs_DC) June 28, 2018
For the unaware: Many journalists receive death threats — yes, that includes me. One time I didn't even learn about it until after my boss pulled me aside to show it to me.

I remember learning to shake it off, compartmentalize it, say "this is journalism."

But it shouldn't be.

— Jack Jenkins (@jackmjenkins) June 28, 2018
I've been getting an influx of death threats over the past week. I know other journalists who have as well. These things are organized, coordinated, and serious. We've pretended they weren't for way too long.

— Jared Yates Sexton (@JYSexton) June 28, 2018
I get so many death threats that my security team advised me against regularly & predictably going to the office @theintercept.

When I leave my house my wife & kids regularly hug and kiss me like it could be the last time they see me.

We tripled my life insurance just in case.

— Shaun King (@ShaunKing) June 28, 2018
While it should be made abundantly clear there is no indication Thursday's shooting was related to the president's rhetoric, that does not expunge his record of stirring up anti-press sentiment. Make no mistake; the media is already dealing with the damage his administration has done to its industry, and it will continue to suffer the consequences, whether it be from a public that no longer believes reporters, or those within it who may be emboldened to release their rage beyond emails, texts or tweets.
Near the end of his Friday address, Trump offered the following assurance:
"My government will not rest until we have done everything in our power to reduce violent crime and to protect innocent life," he said. "We will not ever leave your side."
After the remarks concluded, CNN's Jim Acosta shouted across the crowd, asking the president whether he would cease labeling the press the enemy of the people.
He did not answer.
[Image via screengrab]
Follow Amy Russo on Twitter: @amymrusso
This is an opinion piece. The views expressed in this article are those of just the author.