Trump's Policy Emboldened Lewandowski's Cruelty — And Voters Will Not Forget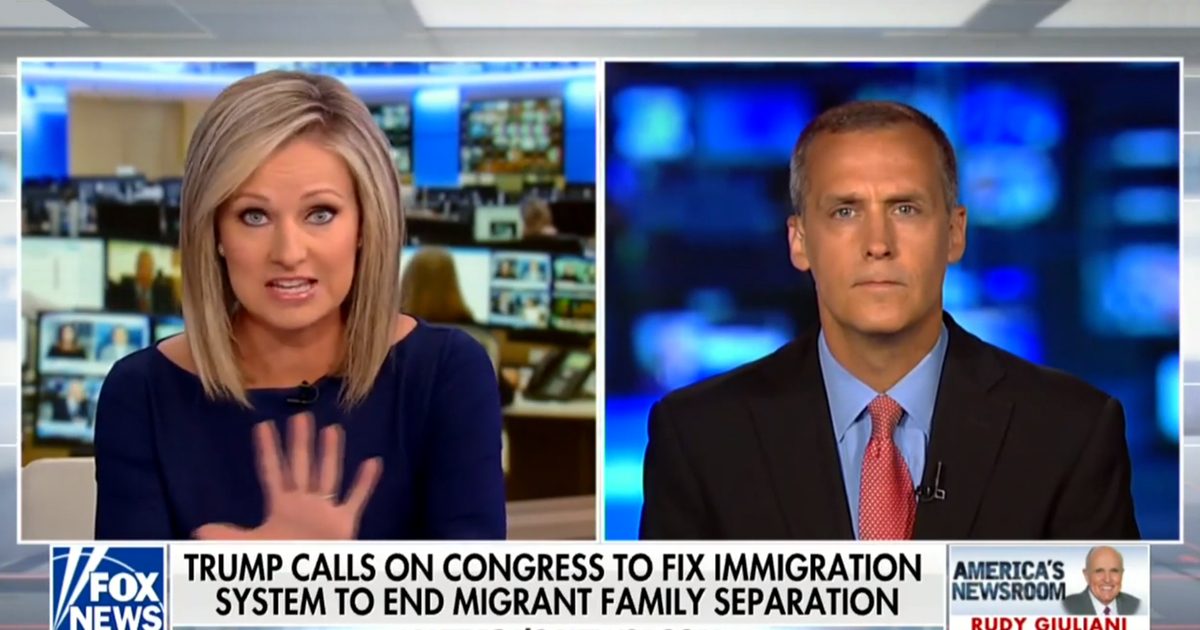 No one should be shocked that full-time Donald Trump defender Corey Lewandowski, while on Fox News Tuesday night, mocked a ten year-old disabled migrant girl who had been separated from her parents by Trump's horrific immigration policy. After all, Lewandowski's beloved Trump cruelly mocked a reporter during the 2016 presidential campaign for daring to contradict him. And it's no surprise that Lewandowski has refused to apologize for ridiculing that disabled child given that Trump not only wouldn't apologize for mocking the disabled reporter, but Trump tried to tell us to ignore our eyes and ears and believe him that he wasn't doing that.
This is all Trump. And while Trump may soon sign an executive order ending his immoral family separation, this vile policy and the horrific comments Trump has emboldened his supporters to make in defense of it will be remembered for a long time.
Beyond Lewandowski, there was Rush Limbaugh yesterday suggesting that the audio of children separated from their parents by Trump's policy and calling out for their parents was fake. Limbaugh stated, "the children may not even be who they're being said to be, and the children may not be separated, they may not be at the border."  Then Trump loving Limbaugh added cruelly, "I wonder how much of this, the media is doing to play off and to corral people who are already wimps and linguini-spines when it comes to kids."
So if you care about four and five year olds crying because they have been separated from their mother's, you are a "wimp" and have a "linguini spine," per one of Trump's biggest cheerleaders.
Ann Coulter despicably declared on Fox News Sunday that the separated children we saw in the media crying were "child actors."  And on Trump's go-to TV show, Fox & Friends, co-host Brian Kilmeade stated Tuesday that these crying immigrant children will one day "turn into" members of MS-13 gangs.  Kilmeade then served up some good ole fashioned dog whistle politics by touching on the fears that some Trumpers have over changing demographics — and brown people coming to America. Kilmeade told viewers that if these migrant children are allowed into America, they would soon "get fanned out to working-class neighborhoods into our society."
This is just a sample of the cruel, callus and racist garbage used by Team Trump to defend Trump's heartless family separation policy. This policy is so horrific that only 27 percent of Americans support it while 66 percent oppose it. But while two thirds of Americans find this Trump policy repugnant, 55 percent of Republicans support it. Let's be clear: Trump's policy of taking children from mothers fits perfectly with a majority of the Republican Party. That is who they are and that's why Trump is the perfect head of today's GOP.
In contrast to what we saw from the right, Tuesday night on MSNBC Rachel Maddow broke down in tears while discussing "tender age" shelters where the Trump administration is housing babies taken from their mothers. And I was flooded with callers over the last two nights on my SiriusXM radio show — progressives, and even a few conservatives — who called to share their horror at the Trump family separation policy. The level of emotion expressed was both unmatched in my time of hosting and deeply moving.
Trump has made the lines clear: You are either with Trump's values or American values. There's no overlap. And while Trump may end this inhumane policy in the near future, based on the emotional reaction I heard from people around that nation, this policy won't be forgotten anytime soon.  If some thought Robert De Niro cursing at Trump was going to excite Trump's base to vote in the midterms, just imagine how much Trump's policy of ripping children from their parents is going to motivate Trump's opponents to come out and vote on November 6.
Dean Obeidallah, a lawyer, hosts SiriusXM radio's The Dean Obeidallah show and is a columnist for the Daily Beast and a CNN.com Opinion Contributor.
This is an opinion piece. The views expressed in this article are those of just the author.