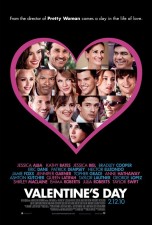 The four-day Valentine's Day/Presidents Day double-feature weekend is shaping up to be a record breaking one at the box office. Yesterday, Valentine's Day (the movie, not the holiday, which is tomorrow — yes, I know this is all very confusing) made about $15 million at the box office. If Valentine's Day (the movie) becomes a popular date night activity on Valentine's Day (the holiday), then there is quite a good chance the movie will earn up to $60 million over this four-day holiday weekend.
Not to be out-done, the eloquently titled Percy Jackson and the Olympians: The Lightning Thief, and The Wolfman both earned $10 million yesterday. (Imagine the mash-up movie you could make with those two titles. I just like thinking about werewolves playing Olympic sports, but then again I am catching the Winter Olympic spirit.) Because of the very different audiences those two films are targeted at, Percy & his friends could make up to $50 million over the four-day weekend, whereas Wolfman is looking at a more realistic $30+ million. Not too bad for a hairy Benicio Del Toro, by far the biggest opening of his career, and also not bad considering the release of this film has been delayed more times than Obama's health care reform. (Believe it or not, Wolfman was initially intended for release Thanksgiving 2008.)
Hanging on to 4th place in the holiday weekend standings is our good old friend Avatar, which made around $5 million on Friday, on pace for another $20+ million weekend. At this point everyone who has ever been to a movie has probably already seen Avatar, so this repeat business is beyond impressive. Can we credit those who might want to experience the film again in 3-D in a variety of altered states? I'm just asking, but we certainly can't rule out that audience.
Bringing up 5th place for the big holiday weekend is last week's #1, Dear John, which took a steep drop from its huge opening last weekend and made just over $4 million yesterday and will probably wind up the four-day weekend in the $17 to $20 million range. At this rate the box office top 10 charts will soon be sending a Dear John letter to the movie itself and bid it au revoir. But do not cry for Dear John — it will have a long shelf-life as a must watch DVD at slumber parties for years to come.
Have a tip we should know? tips@mediaite.com