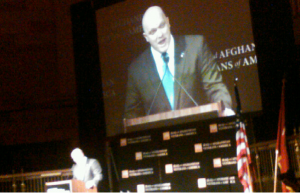 Today is Veteran's Day — one day out of the year for you to remember and celebrate and thank the men and women in uniform who serve this country — but for the Iraq and Afghanistan Veterans of America (IAVA), that's just one of 365 days each year for doing that. Founder Paul Rieckhoff has spent the last 6 years since coming back from combat in 2004 doing that. Last night at IAVA's annual Veterans Day gala at Gotham Hall, Rieckhoff told of how IAVA was born in a small apartment in the East Village, where he and Todd Bowers, now Director of Government Affairs for the group, as well as other volunteers would work to build IAVA into not only the country's first, but its largest non-profit serving veterans right back. Now it has more than 80,000 active veteran members and supporters across 50 states, and is an influential presence not only in Washington but, more importantly, in the lives of returning soldiers who need guidance, support and people who give a damn when they come back from combat.
Heavy, right? Actually the mood was less somber than celebratory last night, as IAVA members looked around the room and realized that they had built something big and growing, with a full banquet hall of people paying for the pleasure of giving back to the troops. It was a ceremonial event but also a lighthearted one, with perennial jokester-host Brian Williams lending levity to the proceedings (as well as his anchorly gravitas (and the gravitas of having done some overseas tours of duty himself). Yes, he did refer to Mayor Michael Bloomberg as "5'8″ inches of twisted steel." The evening also featured an address from J.R. Martinez, IAVA stalwart whom, after being a victim of a land mine explosion requiring 30 operations to recover, is now a motivational spaeker as well as being the first vet to actually play one on TV (on All My Children). Yeah. You got nothin' to complain about, buddy. Throw in a live auction where NFL Today's Bill Cowher got an entire room to stand up and pledge additional donations (it was sort of intense!) and an inspirational speech by 2010 IAVA Veterans Leadership Award winner Wes Moore, whom BriWi speculated *might* one day be running for office (saying that somewhere in some Congressional district, some incumbent is feeling very, very nervous) plus honoring IAVA Civilian Service Award recipient David Gelbaum, who has donated a whopping $238 million to better the lives of veterans (stop for a moment to think about that) — well, it was an evening in turns exhilarating and emotional. You really can't complain of having a bad day after a night like that.
Some photos and videos from the night below. (After I finish giving my talk at Larchmont Temple, I will be back to add captions. Sorry!) Update: Back. Enjoy!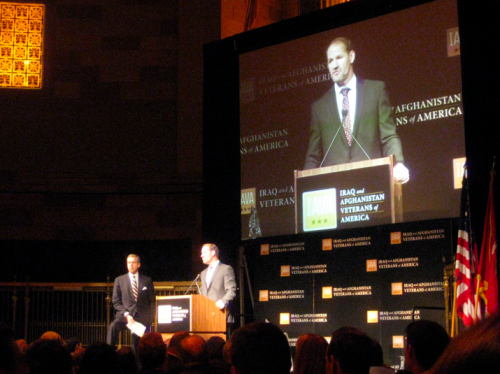 BriWi and Bill Cowher do not kid around when asking for donations. Well it was more Cowher. He's the former Superbowl-winning coach of the Pittsburgh Steelers, a not-untough football team. We had no chance.
Bloomberg! After letting BriWi make fun of him, he took the stage with only kind words for his tormentor, saying that his 102-year-old mother is a devoted NBC Nightly News viewer. (I just fact-checked my memory on that age. Wow, it's true.) Bloomberg noted the extra love New Yorkers have for the nation's veterans, recalling the long shadow cast by 9/11. And then he told an amazing story, about a veteran approaching him to talk about his stance on the so-called Ground Zero Mosque – and, just as Bloomberg feared being given an earful, the vet shook his hand and said thank you, that freedom was exactly what he was fighting for. Wow.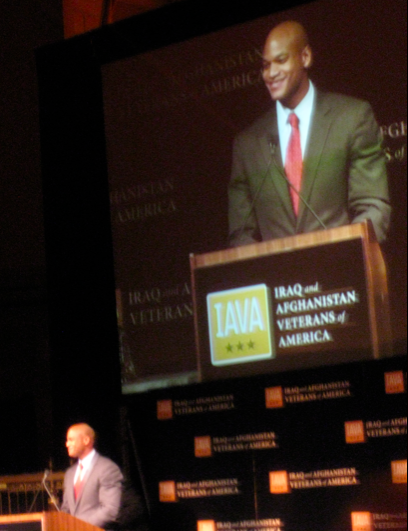 Wes Moore is very impressive. His book, The Other Wes Moore, is about another boy by the name of Wes Moore who grew up in his hometown of Baltimore. One Wes Moore grew up to be a Rhodes Scholar, decorated war veteran, White House fellow and business leader. The other is serving life in prison for killing a cop. In the book he ponders their similar backgrounds and divergent paths.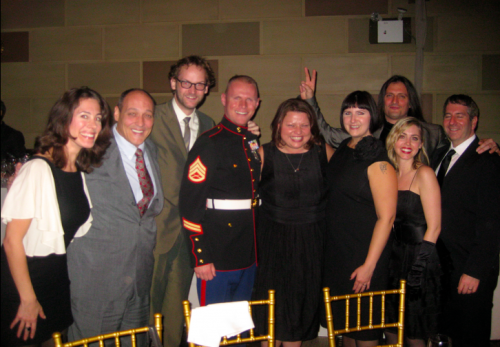 I was a guest of the Colbert Report table, graciously hosted by some writers and producers from the show, and it proved to be a popular spot – first Todd Bowers stopped by to say a personal thanks for September's great all-Vet shows, for which Bowers had a front-row seat (including a Biden hot dog!). Next BriWi came by to say thanks as well – lest you forget, the Colbert Report not only took the show to Iraq last year, they were nominated for an Emmy for their efforts. The Colbert Report was a member of the benefit committee, whcih also included Sebastian Junger, Dean Kamen, Craig Newmark, Milo Ventimiglia, HBO, CNN, Laura and Marc Andreessen, and both Health Net and HealthCentral. It was that kind of night.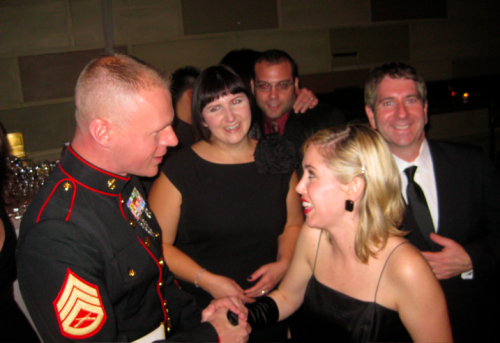 Well hello, soldier!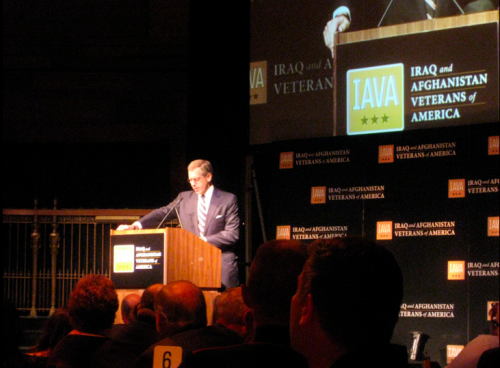 "The military/civilian split has never been this pronounced," said BriWi, who noted that in WWII 13% of the country was directly involved in war effort; now it's but a fraction. When was the last time you passed a soldier in uniform in an aiport or the street and said thank you? Oh look, you can do that here.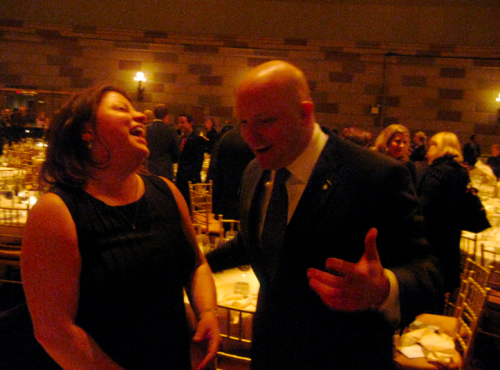 After the evening's presentation had concluded, Paul Rieckhoff came over to say hi to the Colbert table, noting that a supportive tweet from Colbert had sent Twitter twaffic through the roof. Here he is greeted warmly by producer Tanya Bracco.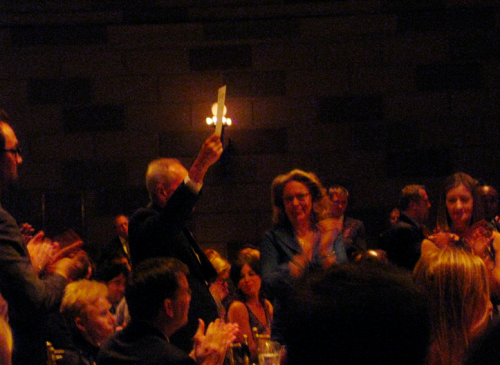 "Who's in for $25,000?" Thundered Bill Cowher to the crowd. Who? This guy.
And now for the video portion of our presentation! Here are the kids from P.S. 22 kicking off the night. (And here they are doing "Eye of the Tiger," just because.)


They asked all the soldiers, past and present, to rise for acknowledgment. Look at what kind of room we got to be in. I tell you, it was enormously humbling.


One more from the kids of P.S. 22 – A bit of "Livin' on a Prayer." The least we can do is spare one for these folks.
Have a tip we should know? tips@mediaite.com