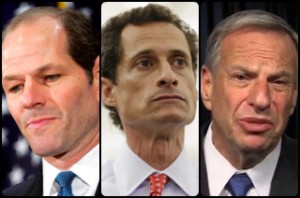 Anthony Weiner, Eliot Spitzer and Bob Filner may have done horrible things to the women in their lives. But they do not represent a Democratic "war on women."
That charge has been leveled by conservative groups this after new revelations emerged about New York mayoral candidate Weiner's "sexting" activity and San Diego mayor Filner's sexual harassment charges. ShePAC sent an email to supporters claiming "Liberal men are leading a violent war on women" and "the real war on women is coming from the left." And the National Republican Senatorial Committee wrote in a press release, "Democrats invoke the 'War on Women' charge repeatedly, but they head for the hills when asked about their Democratic colleagues' actual mistreatment of women."
Fox News has picked up the narrative as well, with anchor Rick Folbaum asking his two-woman panel this morning why the media embraced the the "war on women" label when it was leveled against Republicans during the 2012 election, but has resisted that term to describe the actions of Democrats. In the context of a discussion on Weiner-gate, he asked, "Is the media being hypocritical this time around, not leveling those charges against a Democratic politician who clearly targeted women online?"
To their credit, neither Judith Miller nor Kirsten Powers quite bought this premise, but at the same time neither woman pinpointed exactly why it was so off-base.
Watch the segment below, via Fox News:
The one group that did hit the nail on the head when it comes to defining what makes these Democrats' actions different from their Republican counterparts was EMILY's List. "It's outrageous when men of either party (or no party at all) treat the women in their worlds badly, but the entire Republican agenda has prioritized passing laws that make women second-class citizens in this country," the group's press secretary Marcy Stech told NBC News. EMILY's List, which works to elect pro-choice women candidates, has endorsed Weiner's rival Christine Quinn, who would be the first female mayor of New York City.
When Democrats invoked the "war on women" slogan during the 2012 election it was about policy, not personal behavior. Anthony Weiner may have sent photographs of his penis to strangers on the internet, but he didn't, like Todd Akin, justify his absolute opposition to abortion by saying victims of "legitimate rape" don't get pregnant. Eliot Spitzer may have cheated on his wife with high-class prostitutes, but he didn't, like Richard Mourdock, explain his anti-abortion stance by saying that conception from rape is "something that God intended." And even Bob Filner, who has allegedly hurt numerous former employees with deplorable sexual harassment, cannot damage as many women's lives as Republicans who want to restrict abortion rights, limit birth control options and defund Planned Parenthood.
Lest anyone get the wrong idea, I am not defending the actions of these Democratic men. The voters and constituents in their cities will ultimately decide whether their personal problems have left them unfit for office. But to equate what they did to the real "war on women" waged by many Republicans is wrong and needs to stop.
—
>> Follow Matt Wilstein (@TheMattWilstein) on Twitter
Have a tip we should know? tips@mediaite.com