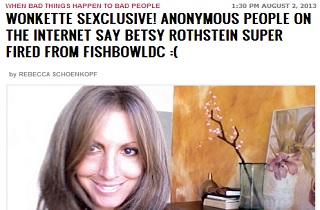 FishbowlDC editor Betsy Rothstein has no shortage of detractors among her writing subjects, and one of them has done a very naughty thing. One day after Rothstein stealth-edited an Asian joke about Veteran Health Administration official Dr. Jennifer Lee, Wonkette chief Rebecca Schoenkopf published an anonymous tip saying that Rothstein is "out at FishbowlDC," as of Friday afternoon.

From Wonkette:
Is Betsy Rothstein, editoresse of MediaBistro's FishbowlDC, scourge of slutty journalistas, arbiter of class, and all-around Miss Congeniality, getting canned from her gig making fun of Asians (update! and then stealth-editing it) and fat asses?
Some guy in our tipline says yes!

Here, in its entirety, is our "tip":

Betsy out at Fishbowl
as of this afternoon
I received the same tip about half an hour before Schoenkopf published her post, which means the anonymous tipster probably blasted it out to everyone who has ever feuded with Betsy Rothstein, which probably put a strain on global bandwidth. So far, none of the sources I've spoken to have been able to confirm the tip, or deny it on the record, so of course, I decided not to run it.
Schoenkopf, on the other hand, apparently has no such compunction. She and Rothstein have mixed it up quite a bit this past year, but that's no reason to go ahead and print completely unsourced garbage, is it?
Since it's out there, though, I would like to say that I am generally opposed to speech firings, although I do think Betsy should apologize to Dr. Lee. It would be especially egregious of Mediabistro to fire someone whom they pay to say terrible things, for saying something terrible.
To add to the intrigue, shortly after Schoenkopf's scooplet, the FishbowlDC Twitter feed tweeted "Please stay tuned for big, important FishbowlDC news… coming soon."
That could simply be Betsy's way of thumbing her nose at her rival, or capitalizing on the attention, or… for the time being, Betsy Rothstein isn't saying.
Have a tip we should know? tips@mediaite.com