Dems Called for More Gun Control After Aurora Shooting. State Police Reveal Existing Laws Were Not Enforced.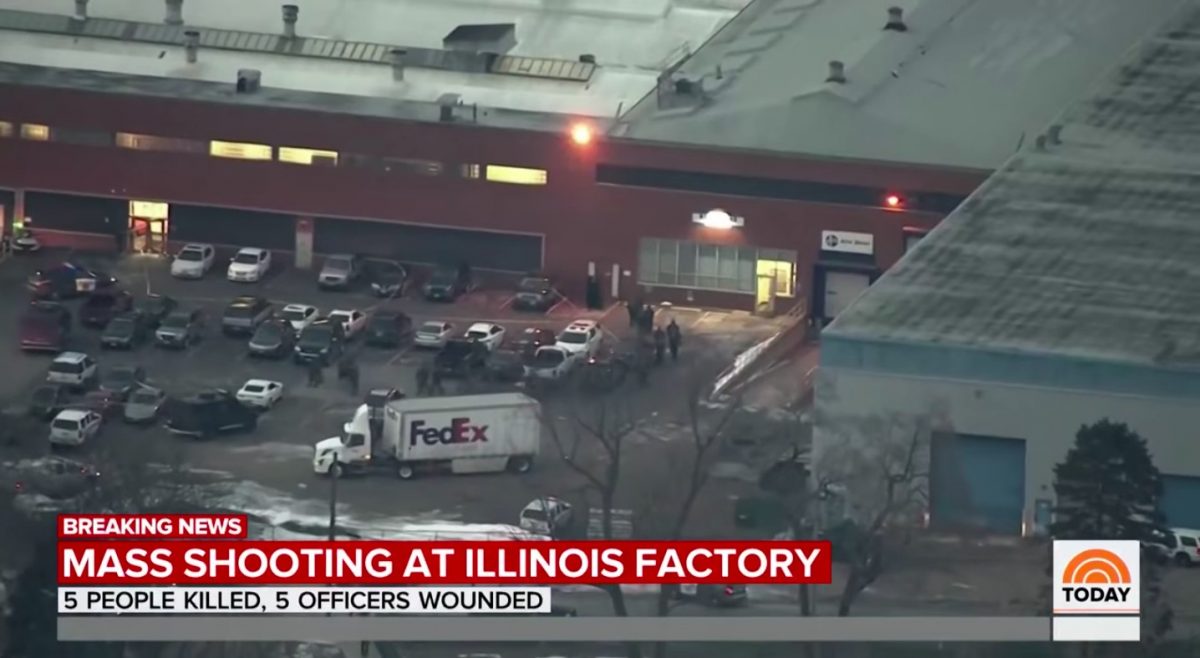 On Thursday, the Illinois State Police detailed how the shooter that attacked an Aurora factory last week was able to have a firearm despite being a convicted felon. This comes after many Democrats and activists seized on the incident to call for even more gun laws.
"The only way we can honor those who died – the only way we will ever be safer- is to shine the brightest light on the good, bad, and ugly of this system and to lay bare for the public and policy makers the depth and breadth of our vulnerabilities," ISP Acting Director Brendan Kelly stated in the release.
The attacker was able to kill five people and injure five responding officers before being shot and killed.
In the state of Illinois, before anyone is able to purchase a gun, they must first pass the process to obtain a Firearm Owner's Identification (FOID) card.
"The FOID background check process consists of a name and date of birth check; queries are then conducted through Illinois and the Federal Bureau of Investigation (FBI) Criminal Justice Information Services (CJIS) national databases," ISP said. In the case of the Aurora shooter, his felony was not caught during this process in 2014. On his application, the shooter replied "No" on if he had ever been found guilty of a felony.
ISP revealed his felony was found five days later after applying for a concealed weapons permit because he submitted his fingerprints to cut the process down from 120 days to 90 days.
With his fingerprints, ISP found a "Mississippi Department of Corrections entry noting a charge of aggravated assault with incarceration of 5 years." They also found court records "which included a criminal disposition plea of guilty for aggravated assault, showing a sentence of 10 years and a requirement to undergo psychological screening."
A letter dated April 15, 2014, was sent to the shooter notifying him the conceal carry application was denied and said his FOID card was going to be invalid. He was told to surrender his card and any firearms he owned. His card was officially revoked on April 17, 2014.
Standard procedure is to then notify local police about a revoked cardholder and tell them where they live, "electronically by means of the LEADS system. ISP records do not contain a copy of an electronic notification sent to law enforcement for [the shooter.] These LEADS administrative messages are only maintained for three years."
It appears there was no follow-up to the letter since ISP said they could not find the shooter's "FOID card nor a related Firearm Disposition Record."
In data provided by the department, during 2018, there were a total of 10,818 FOID Cards that were revoked and only 3,469 of them were returned:
"From 2014 through 2019 (YTD) there have been a total of 110 arrests for violation of 430 ILCS 65/9.5(a) – Failure to Return FOID card or/ not submitting a Firearm Disposition Record. In 2018, there were only 10 arrests statewide for this offense. Therefore, of the 7,531 revocations that did not result in a Firearm Disposition Record being returned, less than 0.004% of revocations resulted in an arrest or conviction."
In short, many of the laws already on the books in Illinois are not being enforced. With much of this information still not known, it did not stop some presidential candidates and others to call for more gun laws.
My heart is with the loved ones of the victims of the horrific shooting in Aurora, Illinois that has left 5 people dead and more injured.

But we know our thoughts and prayers are not enough. Congress must take action to prevent gun violence. https://t.co/qogz1MZgWJ

— Cory Booker (@CoryBooker) February 16, 2019
My heart is broken for the victims and their loved ones in Aurora. I'm grateful for the first responders who put their lives at risk to keep people safe. We've lost too many lives and seen too many communities shattered by gun violence. We can't let this keep happening.

— Kamala Harris (@KamalaHarris) February 16, 2019
Heartbroken over the situation in Aurora, Illinois. We in Colorado know too well the pain Aurora is feeling tonight. Gun violence is the real national emergency plaguing our nation. It's time we finally did something about it.

— John Hickenlooper (@hickenlooper) February 16, 2019
My heart hurts for the victims, their families, the brave first responders, Aurora and all of Illinois right now. Our nation's epidemic of deadly gun violence is a real national emergency.

— Tammy Duckworth (@SenDuckworth) February 16, 2019
My thoughts are with the people of #Aurora as yet another community in our country deals with senseless tragedy. Gun violence is a national epidemic, and it's taken Congress far too long to address it.

— Rep. Barbara Lee (@RepBarbaraLee) February 15, 2019

"It is time to do something about, by the way, after the tragedy in what we saw happen in Aurora, Illinois yesterday. It is time to put sensible gun legislation in place," Sen. Amy Klobuchar (D-MN) told voters at a campaign stop in neighboring Wisconsin.
Have a tip we should know? tips@mediaite.com