Trump Rails at FBI in Morning Tweets: Manafort 'Wouldn't Have Been Hired' if They'd Warned Me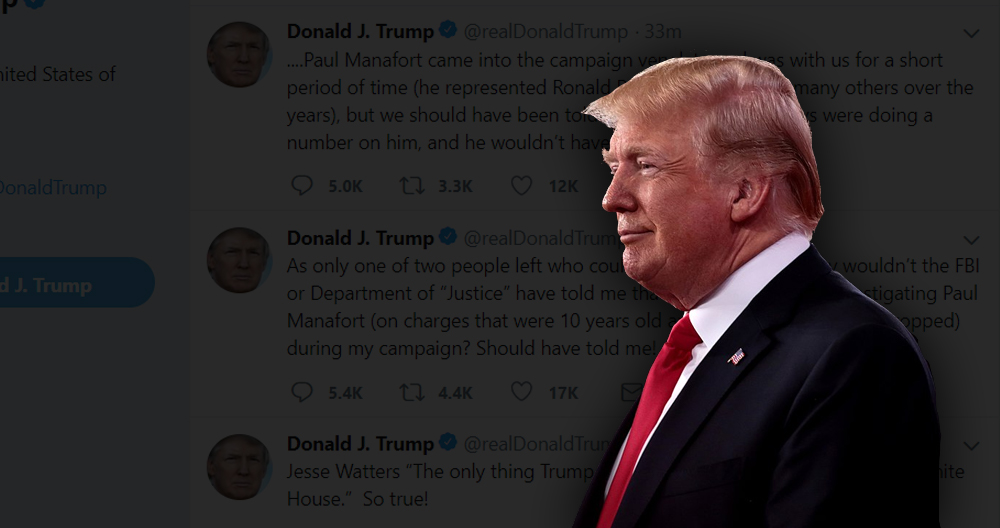 President Trump on Sunday morning unleashed against the FBI and Justice Department again, and threw former Trump campaign manager Paul Manafort under the bus while doing it, in two tweets already fueling speculation of a Manafort flip.
As only one of two people left who could become President, why wouldn't the FBI or Department of "Justice" have told me that they were secretly investigating Paul Manafort (on charges that were 10 years old and had been previously dropped) during my campaign? Should have told me!

— Donald J. Trump (@realDonaldTrump) June 3, 2018
….Paul Manafort came into the campaign very late and was with us for a short period of time (he represented Ronald Reagan, Bob Dole & many others over the years), but we should have been told that Comey and the boys were doing a number on him, and he wouldn't have been hired!

— Donald J. Trump (@realDonaldTrump) June 3, 2018
Paul Manafort has been charged in Robert Mueller's investigation and has been fighting back in court, suffering a big blow a few weeks ago when a judge ruled against him on a key issue.
In early May, Trump used Manafort as an example of how there is a "witch hunt" and said that Manafort was out there, "fighting fake news."
Today the President has seemingly thrown the former campaign manager fully under the bus, though, saying he never would have hired him if the FBI and Justice (which he put in scare quotes) had warned him.
That fact was not lost on political Twitter.
I just wanted to put this tweet in gif form… Manafort of course is Cartman in this instance. pic.twitter.com/0KsFM7LwVT

— Josh Jordan (@NumbersMuncher) June 3, 2018
lol manafort pic.twitter.com/c8bgKuI6qD

— Shoshana Weissmann, Sloth Committee Chair (@senatorshoshana) June 3, 2018
[Featured image via screengrabs]
—
Follow Caleb Howe (@CalebHowe) on Twitter
Have a tip we should know? tips@mediaite.com