Trump Volunteer Caught Blocking Photographer's Lens From Taking Photo of Rally Protester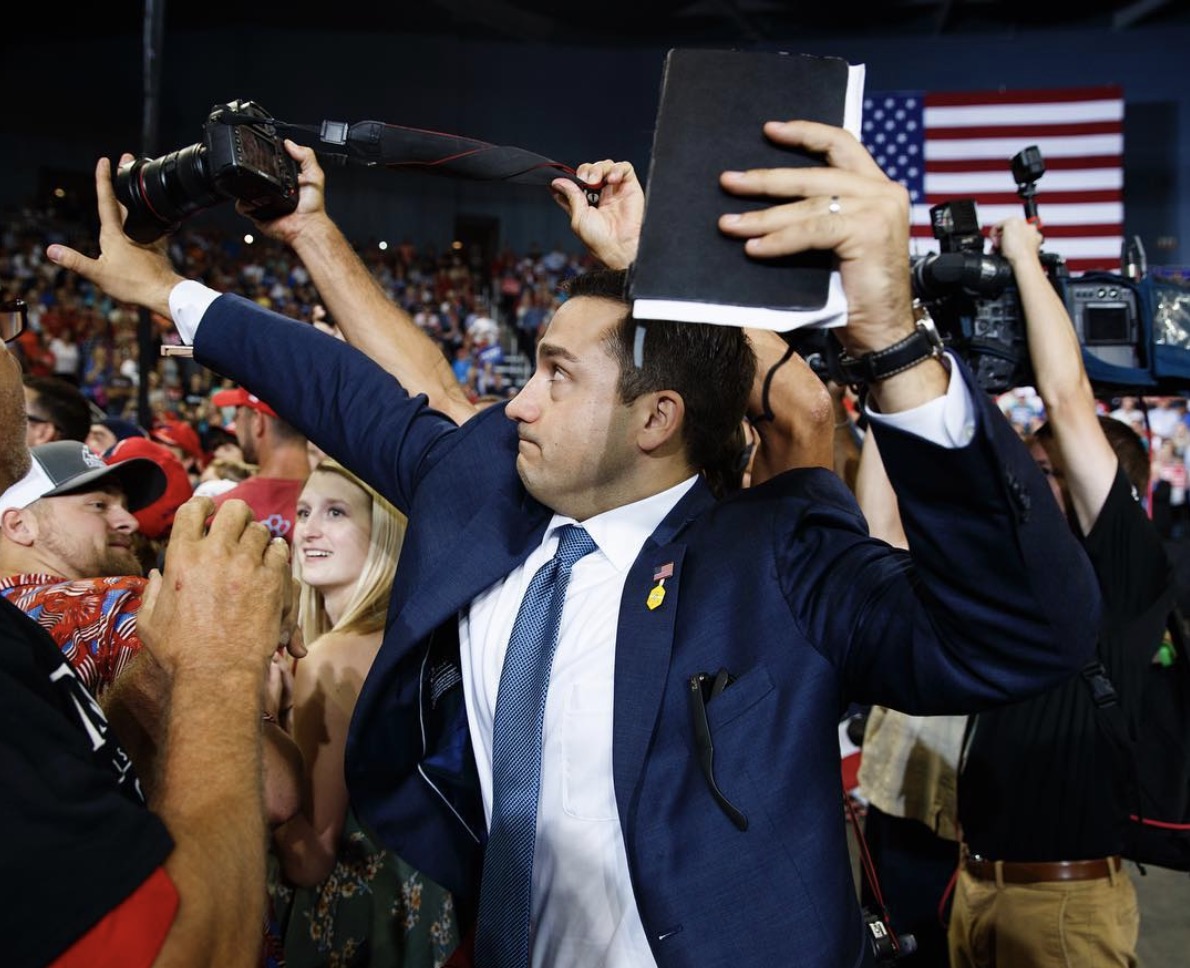 During a rally in Indiana on Thursday, a Trump volunteer really did not want a press photographer to take a photo of a protester.
In fact, he was so adamant that the photographer not get an image of the protester — despite the whole rally being broadcast on Fox News — that decided to block the shot with his hand.
Here is the image of the volunteer stretching out his hand to stop the photographer from getting the shot. The moment was captured by AP's Evan Vucci.  Note the look of determination on his face.
It is unclear exactly which moment the determined Trumpian did not want captured in a photo, but indeed a protester did interrupt Trump's speech and caused a bit of a ruckus Thursday night.
Trump: "As we speak, Canada – and we love Canada, right – but they have to get rid of those barriers and have to get rid of those big tariffs – Canada showed up at the White House…" A protester interruption happens before he finishes his sentence.

— Daniel Dale (@ddale8) August 31, 2018
On her way out, she also reportedly gave Trump the finger.
Protester gives crowd the finger as she's led away from Trump rally

— Jonathan Allen (@jonallendc) August 31, 2018
Of course, Media Twitter had some thoughts on the Trumpian's shot block.
Among many things, this is such amateur hour. https://t.co/NcQbuZ7t9E

— Maggie Haberman (@maggieNYT) August 31, 2018
Trump: "We as a country cannot tolerate political censorship! We are not going to let them control what we see!"

Only moments before, a Trump aide had physically blocked the lens of a press photographer to prevent him from taking a photo of a protestor. https://t.co/eo7Wn8TARq pic.twitter.com/E7jdEuQCNq

— Christina Wilkie (@christinawilkie) August 31, 2018
America in 2018, apparently pic.twitter.com/PWCaDD7c77

— Jennifer Epstein (@jeneps) August 31, 2018
[image by Evan Vucci/AP via Instagram]
Have a tip we should know? tips@mediaite.com