AP: Donald Trump Frequently Made Sexist Comments About Women on Apprentice Set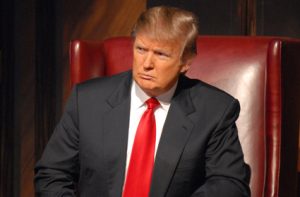 According to a report from the Associated Press, Republican presidential candidate Donald Trump frequently made inappropriate sexual comments about women on the set of his Apprentice series.
AP spoke to twenty former contestants and crew who witnessed his behavior when the cameras were and weren't rolling. The crew members in particular recalled frequent comments Trump would make about one of the camerawoman, constantly telling her she had a "nice ass," and saying she was the second most beautiful woman in the world.
"There is a beautiful woman behind that camera, so I only want to look at that," Trump told producers once as they were setting up a shot. Trump would loudly tell everyone that her blue eyes and blonde hair reminded him of his daughter Ivanka Trump.
Another habit of Trump's was to suddenly start talking to male contestants about what female contestants he would like to have sex with (even though Trump had only just recently been married). "He was like 'Isn't she hot, check her out,' kind of gawking, something to the effect of 'I'd like to hit that,'" recalled one contestant.
Sometimes he would ask male contestants the same question when the female contestants were present: "We were in the boardroom one time figuring out who to blame for the task, and he just stopped in the middle and pointed to someone and said, 'You'd f… her, wouldn't you? I'd f… her. C'mon, wouldn't you?' Everyone is trying to make him stop talking, and the woman is shrinking in her seat," said one former contestant.
[Image via screengrab]
—
>>Follow Alex Griswold (@HashtagGriswold) on Twitter
Have a tip we should know? tips@mediaite.com