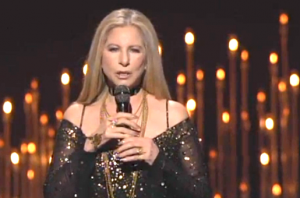 Barbra Streisand kicked off her latest tour, "Barbra: The Music…The Mem'ries…The Magic!" in Los Angeles on Tuesday night. While she was on stage and had her audience's attention, she decided to get political. It's no secret that she and the Clintons have a great relationship, or that she's not Donald Trump's biggest fan, but now his candidacy is very, very real and not so funny anymore, so she decided to speak out.
She called this year's election a "doozy." At one point she brought mentalist Lior Suchard onstage and said, "The only person whose mind he can't read is Donald Trump's, because he doesn't have one." Then, before she began her song "People," she said that no matter "what the color of your skin or where you were born — Cuba, China, Malaysia, Madagascar — our genetic make up is 99.9% identical to every person on the face of the earth. The other 0.1% is Donald Trump." Boom.
She also praised Hillary Clinton, saying that she has sung "Happy Days Are Here Again" for three sitting presidents (including Bill Clinton). "And I hope in a few months from now I will be singing it for the next President Clinton," she said before beginning the song.
Of course, the song includes a few lines about wanting to leave bad times behind. And while she hasn't always been Barack Obama's biggest supporter, she clarified after singing them, "I love Obama."
Watch above, via Top TV News.
[H/T Huffington Post, Variety, LA Times]
Follow Dana Eisenberg on Twitter.
Have a tip we should know? tips@mediaite.com