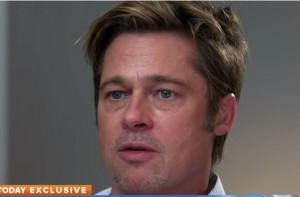 Brad Pitt is just like you: he lets his plants die of starvation, he uses Uber, and he didn't think Brexit would actually happen. He's just like you, except he's better looking, has more money, and is arguably the most recognizable movie star on the planet.
He sat down for an interview with Marlon James for The New York Times' T Magazine, and Jones concluded that despite the fact that he's Brad Pitt, Brad Pitt is pretty regular. They talked about quite a lot, including of course Donald Trump. It was when James asked Pitt about Brexit (note: not Mr. Brexit, just Brexit) that the Donald came up.
On Britain's vote to leave the European Union, he said, "Man, I never thought that would happen. Same way I can't bring myself to think that Trump will be in charge. In the simplest terms, what brings us together is good, and what separates us is bad. We have this great line in 'The Big Short,' …When things are going wrong and we can't find the reason for it, we just start creating enemies."
They talked about how in this case, the enemies are "what's right in front of us," like gay people, or illegal immigrants. Pitt acknowledges that he thinks about these things because in a different version of reality, one where he's not the Brad Pitt we know, Brad Pitt might be a Trump supporter. He told James, "Coming from Oklahoma, southern Missouri, which leans more toward a Trump voice, I try to understand it."
It's troubling, though. On the one hand, he says he is hopeful that we're a "global neighborhood now," but on the other, "you see this reactionary push for isolation and separation again." He continued, "A Trump supporter is fighting against just about everything… What does he even mean, take our country back? Would someone please explain that to me?… Where'd it go?"
[image via screen grab/NBC]
Follow Dana Eisenberg on Twitter.
Have a tip we should know? tips@mediaite.com