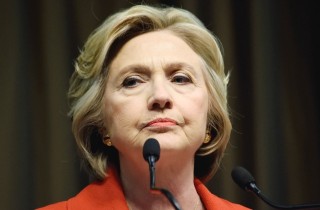 According to multiple sources, the FBI has reopened its investigation into former Secretary of State Hillary Clinton's use of a private email server for government business after discovering a new batch of relevant emails.
Republican chairman of the House Committee on Oversight and Government Reform Jason Chaffetz broke the news on Twitter Friday afternoon.
FBI Dir just informed me, "The FBI has learned of the existence of emails that appear to be pertinent to the investigation." Case reopened

— Jason Chaffetz (@jasoninthehouse) October 28, 2016
NBC News quickly confirmed that report, tweeting out an image of a letter sent by FBI director James Comey to members of Congress.
FBI Director Comey, in letter to members of Congress, says FBI is investigating additional emails in Clinton private server case pic.twitter.com/Ue0qlhqT5w

— Bradd Jaffy (@BraddJaffy) October 28, 2016
BREAKING: FBI re-opening Hillary Clinton email investigation https://t.co/GvY1rHGqsZ

— NBC News (@NBCNews) October 28, 2016
UPDATE: 1:32 p.m. ET: House Speaker Paul Ryan and Donald Trump Campaign Manager Kellyanne Conway have both offered responses to the news:
BREAKING NEWS → The FBI is reopening its investigation into Secretary Hillary Clinton.

My full statement ⇩ pic.twitter.com/LHfyg46dWk

— Paul Ryan (@SpeakerRyan) October 28, 2016
A great day in our campaign just got even better. FBI reviewing new emails in Clinton probe @CNNPolitics https://t.co/WBltG2lAK6

— Kellyanne Conway (@KellyannePolls) October 28, 2016
UPDATE: 2:45 p.m. ET: Trump brought the news up at his rally today, which was met with cheers of "lock her up" from the crowd. Trump said the news means that the system might not be as "rigged" against him as he thought, and that it is the latest sign of Clinton's political transgressions.
The news has prompted innumerable reactions across Twitter. Among them was Republican National Committee chairman Reince Priebus, who put out a response to the news.
NEW: RNC's Reince Priebus issues statement reacting to news of new emails pertinent to FBI Clinton probe https://t.co/za9xaWafZD pic.twitter.com/tIIz80a77N

— CBS News (@CBSNews) October 28, 2016
[Image via Shutterstock]
—
>>Follow Alex Griswold (@HashtagGriswold) on Twitter
Have a tip we should know? tips@mediaite.com