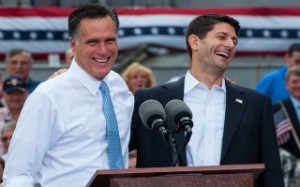 Mitt Romney has been unequivocal lately in his remarks that he would not be the Republican nominee for president. What then to make of a statement of organization filed with the FEC on behalf of Romney's campaign, which was filed just over a month ago?
@MittRomney @SpeakerRyan FEC filing 4 prez. trying to steal the vote from @realDonaldTrumphttps://t.co/OvW9mZwPLc pic.twitter.com/ktfnvHOING

— Liberty Journal (@LibertyJournal1) March 4, 2016
The Inquisitr noted that the statement of organization, which is viewable on the FEC's site and appears to be legitimate, names Mitt Romney as the presidential candidate, House Speaker (and Romney's 2012 VP pick) Paul Ryan as the running mate, and the party is given as Republican. Also worth noting perhaps is that the statement was filed by Darell Crate, the treasurer of Romney's 2012 campaign.
That was enough for Twitter — bolstered by the Inquisitr article and posts on various other blogs — to sound the alarm that Romney was planning to steal the nomination:
Tweets about romney for president

But before anyone jumps the gun and assumes immediately that the former Massachusetts governor is stepping into the ring, consider that Romney for President, Inc. filed a virtually identical form in Feb. 2013 and another in May 2014, long after the prospects for a Romney presidency were dashed in Nov. 2012.
Calls and emails to Red Curve — the FEC compliance firm that filed the paperwork on behalf of Romney's campaign — went unreturned.
Also, remember that just about anyone can file one of these.
Have a tip we should know? tips@mediaite.com