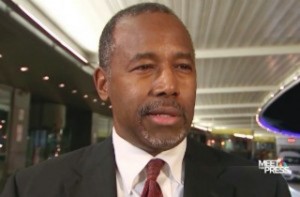 Dr. Ben Carson's campaign has a little life left in it, apparently. One week's worth, to be precise.
According to his allies, next week's "Super Tuesday" might just be the day for Carson to make a long overdue announcement that he's suspending his campaign. March 1, the day when 12 mostly southern states hold primary votes will be a "moment of truth" for the fledging candidate, one of his supporters told Politico.
Carson, the retired neurosurgeon for whom the 2016 race for the Republican nomination represents his first foray into politics, is currently rock bottom in the delegate count among the remaining five contenders. And he hasn't cracked the top three spots in a single one of the early-voting states.
Nonetheless, the good doctor has made clear his intention to stick with the race as long as he can, curiously telling Palmetto supporters after he finished sixth (out of six) in South Carolina that this was "just the beginning," and affirming after his fourth-place finish in Nevada, "I believe that things are starting to happen here."
Since his brief elevation to the top of the polls in early November, Carson's campaign has been dogged by several lethargic debate performances, accusations of irresponsible spending, the dispersion of much of his staff, baffling tactical moves (like taking time-outs from campaigning to tout his new book or to get clean clothes), and, of course, a poor showing at the ballot box.
Still, one ally says, "I think his position will be very clear by Super Tuesday," as if it weren't already.
[h/t Politico]
Have a tip we should know? tips@mediaite.com