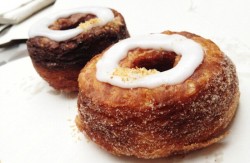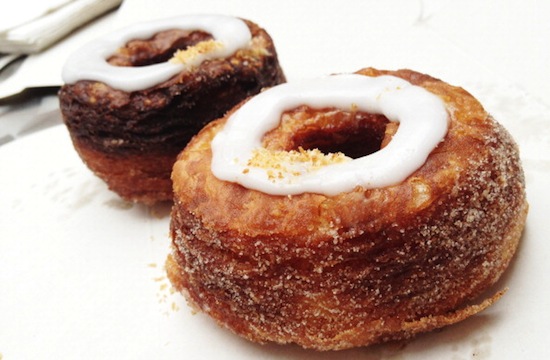 It's no secret that chefs tend to vote Democrat. It's also no secret that Hillary Clinton needed to step up her food game since it's been a hot topic throughout this election and she's literally never seen eating.
Today is the day. Clinton's latest campaign effort involves food and a bunch of big-name celebrity chefs, and she doesn't have to touch any of it. Win-win. The campaign is called Chefs For Hillary and it just launched. A bunch of celebrity chefs including Mario Batali, Dominique Ansel, and Leah Cohen have shared recipes they developed with Clinton's campaign in mind. Lots of them have cute names to match, like Ansel's Democratic Blue(berry) Cookies and Katie Lee's Patriotic Penne Pie. One non-Food Network name is on the list too. John Podesta, chairman of the Clinton campaign submitted a recipe for a walnut pasta he likes to make.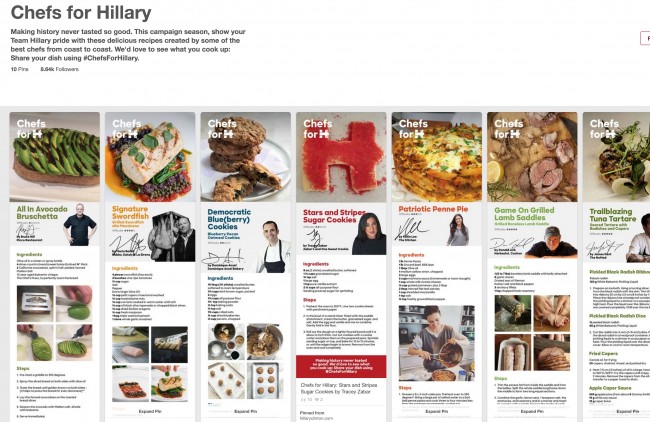 According to Eater, the campaign is meant to encourage supporters to cook at home for themselves or others and also to use the recipes to support the cause by making them for parties and fundraisers. The Pinterest board encourages home cooks to share their efforts on social media using the hashtag #ChefsForHillary. Prepare for lots of Democrat-themed #foodporn.
In a statement to Eater, Batali said "I have been a huge fan of Hillary Clinton's since I first met her in 1991 and she is without a doubt the most qualified candidate for president I have ever had the chance to vote for." Via a campaign aide, Clinton also gave a statement:
In all my travels throughout America and around the globe, some of my fondest memories have been formed over a meal — or a really good drink. And a great recipe lets you relive those experiences over and over. That's why I'm thrilled to have the support of these incredibly talented chefs. The recipes they've created will bring our volunteers and supporters together at house parties and phone banks across the country, and I hope they'll be inspired to make them for years to come.
[H/T Eater]
Follow Dana Eisenberg on Twitter.
Have a tip we should know? tips@mediaite.com