Christie Rebuts Former Aide: Not One 'Scintilla of Evidence' I Knew About Bridgegate Closures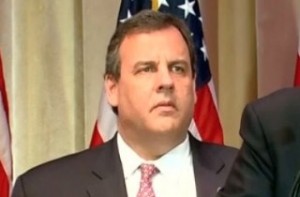 In a radio interview Tuesday, New Jersey governor Chris Christie said that he knew nothing about the lane closures that gridlocked a city whose mayor refused to endorse him, despite witness testimony that he was completely aware of, and amused by, the retaliatory actions of his staff.
In his monthly "Ask the Governor" show, Christie told NJ 101.5's Eric Scott that there was not one "scintilla of evidence" to prove that he had anything to do with the planning or implementation of the closures in Sept. 2013.
Christie said:
Let me tell you, as I said today Eric, first off, I'm not going to get into commenting on every word that comes out of the mouths of every witness because quite frankly there seems to me there's been as much evidence and testimony about people, not just me but others, who are not charged as there has been about the people actually charged. So I'm not going to get into responding to all this stuff. I'll just say this that I went back today and looked at what I said to you in 2014 in the first Ask the Governor I did after the bridgegate revelations became public. And I said you know what there's not a need for me say anything different than what I said then, which is, let me be really clear, with you as I was today at the Statehouse. I knew nothing about the lane realignments before they happened, I knew nothing about the lane realignments as they were happening, I had nothing to do with the planning of it, I had no, nothing to do with authorizing it and we sit here now, nearly 3 years later and there has not been one scintilla of evidence to contradict what I just said. And you know that's it, I mean there's nothing else I can do.
Two of Christie's top aides are currently on trial for their alleged role in the conspiracy. Christie has for three years maintained that he was not involved. Even though he is not charged, prosecutors kicked off the trial by informing a federal jury that Christie was aware of the closings while it was happening.
The governor, who also is leading Donald Trump's White House transition team, was responding to reports that David Wildstein, formerly a senior official at the Port Authority, testified in court this week that Christie was informed about the closures and laughed about it at a 9/11 memorial event. Wildstein already pleaded guilty.
—
Sam Reisman (@thericeman) is a staff editor at Mediaite.
Have a tip we should know? tips@mediaite.com