Clinton Cash Author Joins Calls For Donald Trump to Divest From Business Interests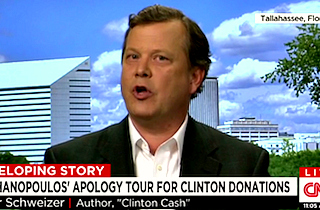 Peter Schweizer— the conservative activist and Breitbart editor who first drew attention to Hillary Clinton's potential conflicts of interest with the Clinton Foundation– signed onto a letter Friday that likewise called on Donald Trump to divest from his business interests and place his holdings into a blind trust.
In the 2015 book Clinton Cash, Schweizer noted that many of Clinton's actions while Secretary of State seemed to favor those who had given large sums to the Foundation. Clinton's defenders retorted that Schweizer lacked any evidence of a quid pro quo, but the allegations launched a wave of new reporting and scrutiny of the Foundation that dogged her throughout the campaign.
Now, Schweizer has joined a similar effort to get Donald Trump to shed himself of potential conflicts of interests, joining a self-described "bipartisan group of organizations and individuals, many of whom specialize in ethical and conflicts of interest issues."
The group rejects Trump's argument that there will be no chance of a conflict of interest if he hands control of his business over to his children. "Turning your businesses over to your children will not prevent the credibility problems that will arise when your policy positions appear to have been made to benefit domestic and foreign interests that have provided financial benefits to the Trump family," they warn.
"We urge you to protect the integrity and credibility of the presidency by divesting your business interests and investment holdings into a true blind trust with an independent trustee," concludes the letter.
[Image via screengrab]
—
>>Follow Alex Griswold (@HashtagGriswold) on Twitter
Have a tip we should know? tips@mediaite.com