Ted Cruz campaign spokesman Rick Tyler apologized to his boss' GOP rival Marco Rubio for spreading a false story claiming that he trashed the Bible in front of Cruz's father.
On Sunday, Tyler tweeted and shared on Facebook an article from the student paper The Daily Pennsylvanian based on a video of a hotel interaction between a Cruz staffer, Rafael Cruz, and Rubio. But the article was based on a false transcription: The Daily Pennsylvanian claims he said there were "not many answers" in the Bible while he appears to say "all the answers" are in the Bible.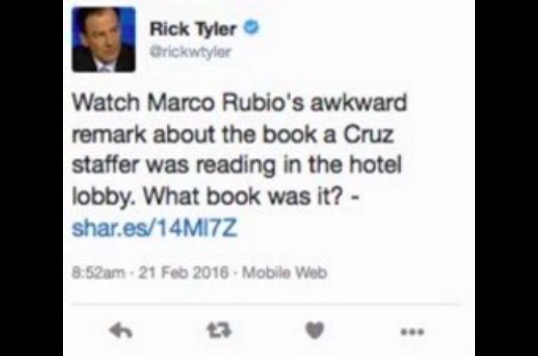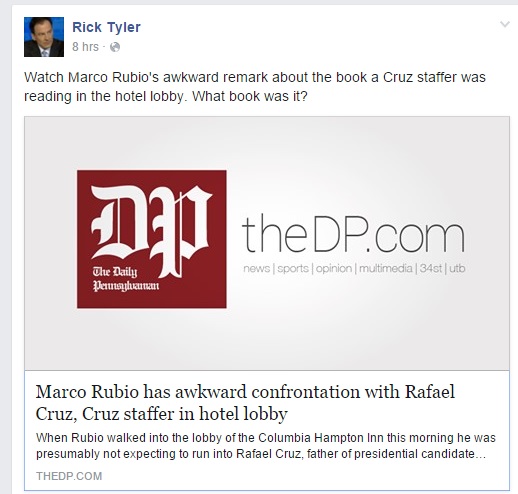 After deleting the posts under criticism, Tyler later apologized in a Facebook post early Monday morning. Tyler said that he spoke to the Cruz staffer in the video, who backed Rubio's version of the events:
I want to apologize to Senator Marco Rubio for posting an inaccurate story about him here earlier today. The story showed a video of the Senator walking past a Ted Cruz staffer seated in the lobby of a hotel reading his Bible. The story misquoted a remark the Senator made to the staffer. I assumed wrongly that the story was correct.

According to the Cruz staffer, the Senator made a friendly and appropriate remark. Since the audio was unclear, I should not have assumed the story was correct. I've deleted the post because I would not knowingly post a false story. But the fact remains that I did post it when I should have checked its accuracy first. I regret the mistake.
This is the second apology made by the Cruz campaign to another Republican candidate following a questionable attack. Following the Iowa caucus, Ted Cruz himself apologized to Ben Carson after his campaign spread a rumor that Carson was dropping out of the race.
[Image via screengrab]
——
>>Follow Alex Griswold (@HashtagGriswold) on Twitter
Have a tip we should know? tips@mediaite.com