Days Before Backing Out, Trump Said He Was 'Pretty Much OK' With More Debates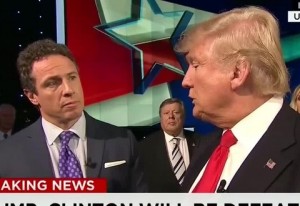 Days before announcing that he would be sitting the next debate out — a move which effectively cancelled it — Donald Trump said he was "pretty much okay" with more debates.
Trump made the comments to reporters after CNN's most recent Republican debate last Thursday. On Monday Fox announced the details of the upcoming debate, and Wednesday morning Trump revealed during a phone interview with Fox & Friends that he would be sitting it out. Shortly afterward, representatives of John Kasich's campaign said that he too would be sitting it out.
In the days leading up to his decision to sit the debate out, Trump reignited his one-sided Twitter feud with Megyn Kelly, the Fox host who had been scheduled to co-moderate the event. (Kelly had aired a segment on her show Monday night debunking and dismantling Trump's claims about Trump University.)
Watching other networks and local news. Really good night! Crazy @megynkelly is unwatchable.

— Donald J. Trump (@realDonaldTrump) March 16, 2016
"@SCNAK45: @megynkelly is trying so hard to bash @realDonaldTrump it's ridiculous" Don't worry, everyone is wise to Crazy Megyn!

— Donald J. Trump (@realDonaldTrump) March 15, 2016
Can't watch Crazy Megyn anymore. Talks about me at 43% but never mentions that there are four people in race. With two people, big & over!

— Donald J. Trump (@realDonaldTrump) March 16, 2016
During his Wednesday interview with Fox & Friends, Trump cited a prior speaking engagement (reported to be AIPAC) and also said that, "according to Drudge and everybody else, I have won the debates." He added, "I think we've had enough."
Have a tip we should know? tips@mediaite.com