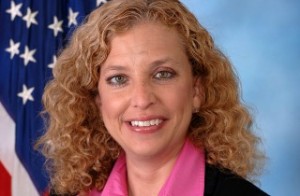 According to reporting from The Hill, Congressional Democrats are discussing amongst themselves how and when DNC chair Debbie Wasserman Schultz should be forced out of her position before the July national convention.
Wasserman Schultz has long been accused of favoritism by Bernie Sanders supporters, who claimed that her decision to schedule and limit Democratic debates was meant to protect Hillary Clinton. But in recent weeks, Wasserman Schultz has been increasingly open in attacking Sanders, saying that his apology for the chaos at the Nevada caucus "fell short" and tried to "justify the reason that the violence and intimidation has occurred."
Even pro-Clinton voices on Capitol Hill tell The Hill that Wasserman Schultz should be removed to avoid the appearance of bias. "There have been a lot of meetings over the past 48 hours about what color plate do we deliver Debbie Wasserman Schultz's head on," one pro-Clinton Democratic senator told them.
"There's a strong sentiment that the current situation is untenable and can only be fixed by her leaving," said another Democratic source. "There's too much water under the bridge for her to be a neutral arbiter."
Wasserman Schultz does have at least one "supporter." The Republican Super PAC American Crossroads endorsed her Tuesday, noting that "Wasserman Schultz's leadership has been a catalyst for the emerging civil war in the Democratic Party this year, ensuring that their nominating process will drag on far longer than that of Republicans."
[Image via screengrab]
——
>>Follow Alex Griswold (@HashtagGriswold) on Twitter
Have a tip we should know? tips@mediaite.com