EPA Head Pruitt Slammed Trump in 2016: 'Would Be More Abusive' to Constitution Than Obama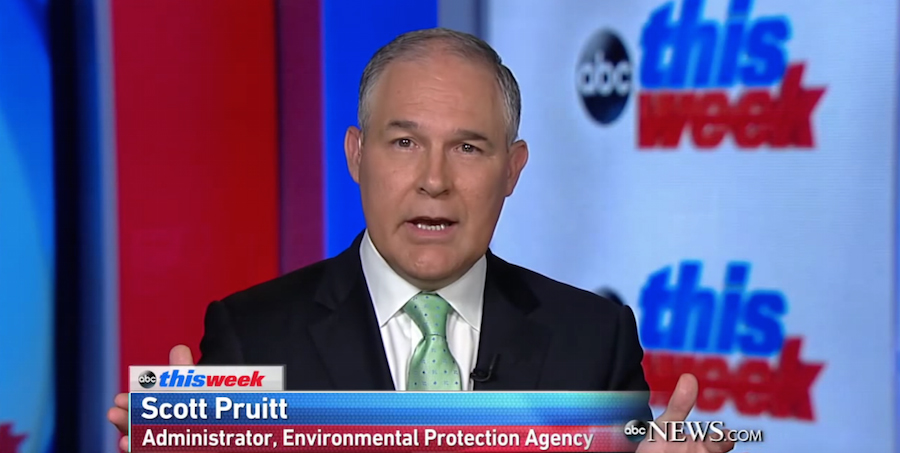 Back in the halcyon days of 2016, before Scott Pruitt cozied up to President Donald Trump and was named head of the EPA, he conducted a radio interview absolutely dismissing the president's constitutional bona fides.
The interview, unearthed by The Washington Post, finds then Oklahoma Attorney General Pruitt disregarding the Trump candidacy entirely, saying it would be dangerous for our country.
"I believe that Donald Trump in the White House would be more abusive to the Constitution than Barack Obama — and that's saying a lot," he said. "I really believe he would use a blunt instrument. This president at least tries to nuance his unlawfulness."
During the February 4, 2016 interview, Pruitt also agreed with host Pat Campbell that Trump was "dangerous" and "a bully."
Finally, when asked if he would be voting for his current boss, he responded with a firm "no."
In other news, the New York Times has published a comprehensive list of 66 environmental protection rules that already been overturned, or are in the process of being overturned, by Pruitt and his EPA. These include reversing bans on pesticides, loosening regulations on flood building standards and, of course, eliminating protections for those dastardly whales and sea turtles.
[image via screenshot]
—
Follow Lawrence Bonk (@sidescrollers) on Twitter
Have a tip we should know? [email protected]