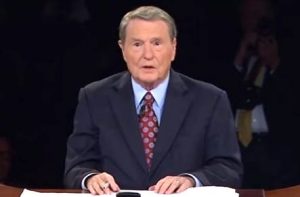 Two former presidential debate moderators, including the journalist who has hosted the most debates in history, said in an interview with the Daily Beast that moderators should not attempt to fact-check the presidential candidates.
Fox News' Chris Wallace received criticism when he said that he didn't believe it was proper for him to fact-check the candidates during the debate between Republican Donald Trump and Democrat Hillary Clinton. On Sunday, the executive director of the Commission on Presidential Debates agreed, saying it was the candidates who had the responsibility to fact-check each other.
Two of the most prominent former moderators– former CNN anchor Bernard Shaw and former PBS host Jim Lehrer— also agreed. "It is not my role to correct a candidate. The record will do that, and the record is there," Shaw said. He noted that that the presidential campaigns and fact-checkers like PolitiFact will be engaged in real-time fact-checking, so voters will still get the real facts.
"These candidates are creating a record as they respond to questions during the debate. It's not my role to be a curator of facts…Informed voters will be aware of what the facts are," Shaw said.
Shaw criticized then-CNN host Candy Crowley for jumping into the 2012 debate between Barack Obama and Mitt Romney. "That is tantamount to interference in the debate," he said, "and when a moderator interferes, it inflames supporters of the candidate. I know there are differing opinions about this, but that's my attitude."
"The rules are the rules," agreed Lerher, who has moderated a record eleven presidential debates. "Let's say Donald Trump has 90 seconds to respond to a question, and if he uses those 90 seconds to filibuster instead of responding directly to the question, viewers and listeners and readers of transcripts will see it for what it is."
[Image via screengrab]
—
>>Follow Alex Griswold (@HashtagGriswold) on Twitter
Have a tip we should know? tips@mediaite.com