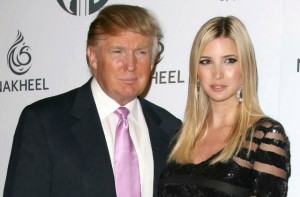 Geoffrey Zakarian has been in a legal battle with Donald Trump for quite some time. The restaurateur pulled out of Trump's upcoming hotel in Washington, D.C. following Trump's comments about Mexican immigrants being criminals and "rapists." José Andrés also pulled out of his deal, and each are being sued for $10 million by Trump. Zakarian is suing back. Both parties testified in June and The Washingtonian looked at their depositions. The whole thing is way murkier than we thought.
Apparently, Donald Trump, Jr. didn't know that Zakarian was pulling out of the deal until he read about it in The New York Times. Trump Jr. said he was surprised, because up until then, the two "had a pretty good personal relationship."  Zakarian's side of the story is that he called him and asked for his father apologize, to which Trump Jr. replied, "he'll never do that."
The Trumps also say that Zakarian only decided to back out once Andrés already had. Ivanka Trump said "I don't think that Geoffrey has strong political or emotional convictions… I think he sort of went with the wind of what José was doing. From what I had been told, Geoffrey was highly opportunistic in a negative way. So that's the filter through which I know Geoffrey. I don't know him otherwise."
That's not what Zakarian says. As he tells it, "I was hoping that he would come to his senses and show us that he's not out of his mind after all and apologize. So I was just going along hoping that this thing was a bad dream."
It looks like things were tense between Zakarian and the Trumps even before their legal issues. Supposedly Zakarian and Ivanka argued about decor. He said, "I've forgotten more than she knows about fabrics. She's not even skilled at this, saying this stuff."
Overall, however, he likes the kids. He says they are "really nice people—they're nothing like [their father]."
As far as the lawsuit goes, Zakarian says "If they should be suing someone, they should sue Donald senior, because he fu*king did this. He did this. He rendered this Chernobyl. He did it. So they should sue their dad."
[H/T Grub Street]
Follow Dana Eisenberg on Twitter.
Have a tip we should know? tips@mediaite.com