Hillary Says 'We Have Undocumented Immigrants In America' Paying More Taxes Than Trump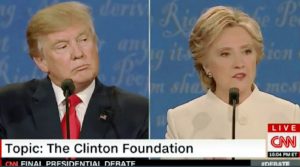 In a segment of tonight's third and final presidential debate initially on the Clinton Foundation and the accusations of pay for play, Democratic presidential nominee Hillary Clinton got in a pretty sick burn on Republican candidate Donald Trump.
After Clinton defended the charity's efforts in Haiti, Trump discussed the Trump Foundation, calling it a "small foundation" that he contributes to (records indicate he hasn't since 2008) and that 100% of the money goes to charity.
This caused moderator Chris Wallace to ask him about the reports that he had used some of the money to settle lawsuits. Trump stammered a bit, discussing an American flag and Palm Beach, giving an opening to Hillary.
She stated that there was "no way we can know" for us to know if any of what he says is true because he refuses to release his tax returns. Bringing up the report from the New York Times about Trump taking a nearly billion dollar loss in the mid-90s that could have let him avoid paying federal income taxes for nearly 20 years, Hillary tossed out this zinger:
"What is really troubling is we learned in the last debate he hasn't paid a penny in federal income tax. And we were talking about immigrants a few minutes ago, Chris. You know, half of all immigrants — undocumented immigrants — in our country actually pay federal income tax. So we have undocumented immigrants in America who pay more federal income tax than a billionaire."
Watch the clip above, via CNN.
[image via screengrab]
–
Follow Justin Baragona on Twitter: @justinbaragona
Have a tip we should know? tips@mediaite.com