'I Am Not a Racist': Trump Rallygoer Regrets Shoving #BlackLivesMatter Protestor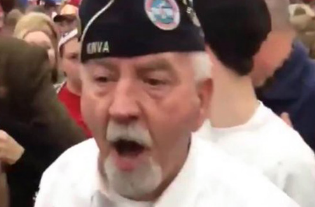 A Donald Trump rallygoer in Kentucky issued a public apology today for his actions after getting caught up in a fight with a protestor.
Trump's various controversies have made counter-demonstrations common at his events, and a particularly contentious one occurred last week in Louisville. Trump asked security to throw out Black Lives Matter protester and University of Louisville student Shiya Nwanguma, and she was roughhoused and cursed at by numerous supporters before she left the rally.
Nwanguma's forced removal was filmed by local news and onlookers, and one of the shoving men caught on camera was Al Bamberger. The 75-year-old man was wearing his Korean War Veterans Association uniform and hat, and he was shown pushing the young woman forward multiple times.
I'm watching this shit right now on the news 2016 in Louisville KY and I'm furious !!!!look at the way they treated this beautiful African American female these racist ### ######## turned the tables and you know what would happen this is what these people think about us

Posted by Paul Bibbs on Tuesday, March 1, 2016
KMVA received a letter from Bamberger yesterday, saying that the videos taken of him don't offer the full context of what happened. He wrote that the protestors got vocal and shoved their way forward after Trump arrived, which caused him to fall over earlier and lose his jacket.
Bamberger emphasized, however, that he was not a racist and that he only got caught up in the frenzy as protestors and white supremacists around him started to clash:
"I went to the rally to have a good time, support the veterans, and see Donald Trump. Unlike the people that surrounded me at the event, whose main purpose was to cause chaos and create videos, I went there with no intention of participating in a confrontation and I deeply regret my involvement…There is no excuse for my actions. I physically pushed a young woman down the aisle toward the exit, an action I sincerely regret. I have embarrassed myself, my family, and Veterans. This was a very unfortunate incident and it is my sincere hope that I can be forgiven for my actions."
Bamberger's reaction appears more reflective than that of Joseph Pryor, the man who was discharged from a pre-Marines program after he bragged about his involvement in the skirmish.
[image via screengrab]
Have a tip we should know? [email protected]