Immigrants Rights Groups Vow to Fight for Undocumented Families and Communities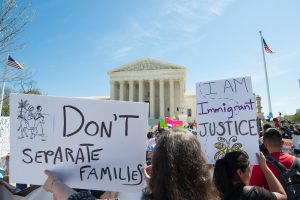 Leaders in the immigrants rights movement said they were "shocked and appalled" by the results of Tuesday's election, but resolved to continue fighting to protect the rights of undocumented immigrants, and to defend the safety of their communities and integrity of their families.
"Donald Trump is a man who spent the last year-and-a-half stoking the flames of fear, of bigotry, and race and hatred. He ran a campaign that largely focussed on maligning and demonizing immigrants and Muslims," said Kica Matos, the Director of Immigrant Rights and Racial Justice for Fair Immigration Reform Movement Action (FIRM Action) in a press call Thursday afternoon.
Trump's 100-day plan, which vows to overturn Barack Obama's executive actions, was "nothing short of frightening," she said. Among those actions that will presumably be dissolved is Deferred Action for Childhood Arrivals (DACA), a 2012 policy that allows undocumented people who entered the country as young people to receive deferment from deportation and apply for renewable temporary work permits.
Matos said that immigration rights activists would do "everything in our power to protect our community, and I mean everything," including direct legal assistance, litigation, and legislative advocacy to protect Latino and undocumented communities from "any illegal, inhumane, and/or unjust, action from Trump and his administration."
Cristina Jimenez, Executive Director and Co-Founder of United We Dream, said, "The fear in our communities is real. It is palpable. Whether or not he would proceed with these promises he made over the campaign or not, our message to the country and to the next administration is that we are undocumented, we're unafraid, and we're here to stay."
She said that immigrants rights groups would continue to fight for DACA, and said that Trump's policies presented Americans with a stark choice. "You're going to stand with immigrants, or you're going to stand with a platform of bigotry and hate." She enjoined Americans to contact local representatives and pledge their support for the rights of undocumented families.
"There's no more standing on the sidelines," she said.
Cristine Neuman-Ortiz, Executive Director of Voces de la Frontera Action, a Wisconsin-based organization that advocates for immigrants' and workers' rights, said that she did not believe white working class voters who voted Republican "represent the worst elements of the Trump base," including the "far-right white supremacist movement," but that they had bought into his "false promise" that he would help them. These workers would "be betrayed and attacked" as well, she predicted, because "Trump's platform and Republican agenda is an anti-worker agenda."
"One of the strengths of the immigrants rights movement has always been that we have risen powerfully and united and militantly in times of crisis. And that's been demonstrated over and over again," she added.
It was a movement, she said, "based in families."
[image: Rena Schild / Shutterstock.com]
Have a tip we should know? tips@mediaite.com