'Is It Legally Rigged? No It's Not': Rep. Peter King Rejects Trump's Claim Of Rigged Election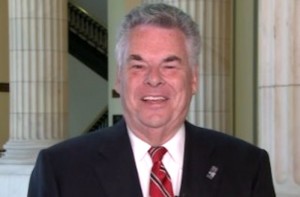 As GOP presidential nominee Donald Trump continues to hammer home the notion that this year's election will be unfair and "rigged" to make sure Hillary Clinton wins, many of his supporters have contradicted him, stating that the voting will be fair and trustworthy.
One of those supporters, Rep. Peter King (R-NY), appeared on Imus in the Morning and disputed Trump's claims that the the government will steal the election from Trump. At the same time, he did defend the real estate mogul, saying he's bringing up legit issues regarding political and media establishment.
"Is it legally rigged? No it's not," Trump told host Don Imus. "Whoever wins, wins. But I do think there's a lot to what he's saying, whether it's conscious or not, of having people in the so-called establishment, whatever that is, the big money people, the media, the political leaders, they are petrified of the thought of Trump being elected."
Imus said he feels Trump is just saying these things on the campaign trail now because he's down in the polls and he expects to lose. King didn't agree, saying he doesn't think Trump "expects to lose" and feeling that his rhetoric lately is just a way to energize his voters to make it to the polling booths.
It should be noted that Trump sent the following tweet today, after King's appearance.
Of course there is large scale voter fraud happening on and before election day. Why do Republican leaders deny what is going on? So naive!

— Donald J. Trump (@realDonaldTrump) October 17, 2016
Listen to the interview above, via CNN's KFILE.
[image via screengrab]
–
Follow Justin Baragona on Twitter: @justinbaragona
Have a tip we should know? tips@mediaite.com