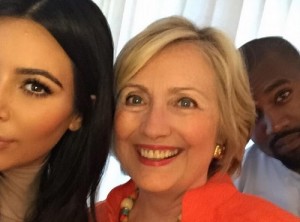 Last week, Kim Kardashian nearly broke the Internet (again) when she said she was "on the fence" about who she was voting for. Prior to her Wonderland Magazine interview, she had publicly supported Hillary Clinton, but she said a conversation with Caitlyn Jenner may have made her change her mind. "I had a long political call with Caitlyn last night about why she's voting Trump. I'm on the fence," she told the mag.
Over the weekend she cleared things up on her website, in a post titled "I'm With Her." She said that her "quote," with the word quote in quotations, was taken out of context. "There was a point when I wasn't 100% sure I was even going to vote in this election," she wrote. She wanted to do her research so that she would be able to make an informed decision, and that now, she's ready to go in November.
I found that without a doubt, I stand with Hillary. I'm with her. I believe Hillary will best represent our country and is the most qualified for the job. This year, I'm not just voting for myself, but also for my children, and I took that into careful consideration when I made my decision. Now that I have made my choice I want to be clear… I would never judge anyone based on their political or religious beliefs. I believe that both candidates have the intention of making the country a safer and stronger place for every American, they just have different ideas about how we get there.
It's worth noting that the quote in question doesn't appear in the online version of the article. Eve Barlow, who wrote the article took to Twitter to defend herself.
All I can say right now is that I acted as a professional journalist and I am not a liar. Thanks to those who have reached out.

— Eve Barlow (@Eve_Barlow) September 25, 2016
[image via Twitter/@KimKardashian]
[H/T Vulture]
Follow Dana Eisenberg on Twitter.
Have a tip we should know? tips@mediaite.com