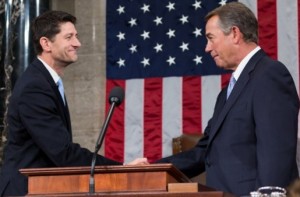 Former Speaker of the House John Boehner said Wednesday that he believed the Republican National Convention should nominate current Speaker of the House Paul Ryan if the nomination is contested.
Boehner said during a conference in Boca Raton, Florida that "anybody can be nominated" at the convention. "If we don't have a nominee who can win on the first ballot, I'm for none of the above," he said.
"They all had a chance to win. None of them won. So I'm for none of the above. I'm for Paul Ryan to be our nominee," he continued.
Boehner's remarks were more than a little awkward, considering he's already endorsed fellow Ohio Republican John Kasich. But Boehner's spokesperson indicated that his boss was only endorsing Ryan in a situation where Kasich failed to secure the nomination.
Here's Boehner spox @OhSchnitt on the report that Boehner endorsed @SpeakerRyan in a contested convention: pic.twitter.com/BxniqTA5bv

— Frank Thorp V (@frankthorpNBC) March 16, 2016
Boehner has floated Ryan as a consensus pick before in off-the-cuff remarks, but never so strongly. Ryan spokesman Brendan Buck shot the idea down earlier this month: "In addition to this being an incredibly remote scenario, the speaker has no interest in it."
UPDATE: 1:56 P.M. EST Ryan spoke to Politico about this today, and he said that even now, the answer is no.
"I've been really clear about this, if you want to be president, you should run for president," Ryan said. "We should select our nominee from among the people who are running for president. Clear and simple. So no, I am not going to be the president. I am not going to be the nominee. I am not going to become the president through Cleveland."
[h/t Politico]
[Image via screengrab]
——
>>Follow Alex Griswold (@HashtagGriswold) on Twitter
Have a tip we should know? tips@mediaite.com