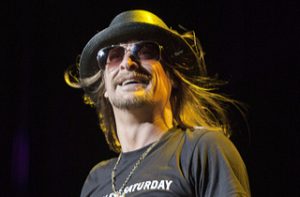 Kid Rock has some new merchandise this holiday season that you're either going to love or hate, depending on how you feel about our President-Elect. He's released a line of pro-Donald Trump t-shirts and hats that he's selling on his website. So if a shirt that says "_onald Trump / The 'D' is Missing Because It's in Every Hater's Mouth" sounds like a good holiday gift, you can now purchase it for your loved one.
Due to overwhelming demand, we decided to go ahead and actually make this & other current event merch: https://t.co/7sQgqk0SLk pic.twitter.com/0PukiHvHCb

— Kid Rock (@KidRock) December 5, 2016
The line also includes the above shirt that labels red states "United States of America" and blue states as "Dumbf*ckistan," a hat that says "Make America Badass Again," and a less profane t-shirt that says "God, Guns, & Trump."
Reactions to the merch have been mixed. Lots of people think they're obnoxious:
I hear #kidrock is selling obnoxious #Trump t-shirts. Which is better than him selling us obnoxious music.

— Midevilmack (@midevilmack) December 7, 2016
.@KidRock's line of shirts insulting #Hillary voters inspired a line insulting to him. It just has "Hepatitis C" and "has-been" on it.

— Shep Michaels (@ShepMichaels) December 7, 2016
@KidRock You're everything wrong with modern civilization. Glorified ignorance and hate. Why don't you start selling KKK hoods too?

— Modern Mythos (@supermythos) December 6, 2016
@KidRock What a "D"ick you've become over the past couple of years. See ya.

— (((bartnbeka))) (@bartnbeka) December 6, 2016
Others are into it:
Trying to have the most fire archive collection of Kid Rock shirts.

— Raw Deal (@ChnnyBrwn) December 7, 2016
@KidRock that's too awesome! I love it?!✌

— Jen Lear (@Jennyjo2014) December 6, 2016
The items retail for about $25 each, and can be shipped in time for Christmas.
[image via Harmony Gerber / Shutterstock.com]
Have a tip we should know? tips@mediaite.com