Latest Trump Accuser Says Trump Forcibly Kissed Her and Offered Her $10,000 To Sleep With Him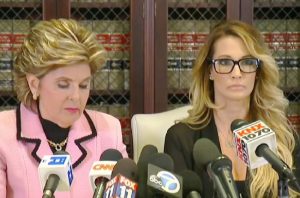 Adult film actress Jessica Drake became the twelfth woman to accuse Republican presidential nominee Donald Trump of sexual misconduct. In a press conference yesterday with renowned attorney Gloria Allred, Drake detailed the events of her encounter with Trump in 2006, when he offered her money to sleep with him and forcibly kissed and hugged her.
Drake stated at the presser that she attended a golf tournament in Lake Tahoe when she met Trump. At the end of the tournament, she said the real estate mogul asked her to come up to his hotel suite. When she arrived, Trump was wearing pajamas and grabbed her and her friend, kissing and hugging both.
Trump called her up when she left the suite, asking her to return. When she explained that she couldn't because she needed to go back to Los Angeles, Trump then offered her $10,000 to sleep with him. Declining the offer, Trump said she could use his private jet if she accepted the invite.
At the press conference, Allred produced a photo of Drake and Trump together at the gold tournament. She also hit back at Trump's threat to sue all of the accusers, telling the GOP candidate to "be careful what you wish for." She also indicated that more women would be coming forward in coming days and weeks.
After Drake made her allegations, Trump's campaign released a statement denying the accusation:
This story is totally false and ridiculous. The picture is one of thousands taken out of respect for people asking to have their picture taken with Mr. Trump. Mr. Trump does not know this person, does not remember this person and would have no interest in ever knowing her. This is just another attempt by the Clinton campaign to defame a candidate who just today is number one in three different polls. Anyone who would pay thugs to incite violence at a rally against American citizens, as was released on video, will stop at nothing. Just another example of the Clinton campaign trying to rig the election.
Watch a portion of the presser above, via MSNBC.
[image via screengrab]
–
Follow Justin Baragona on Twitter: @justinbaragona
Have a tip we should know? tips@mediaite.com