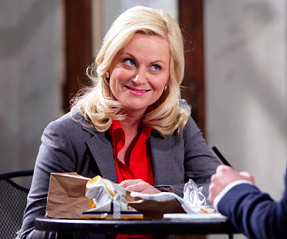 If there's one thing we all need right now, it's comfort, and who better to provide that comfort than Pawnee's own Leslie Knope? The Parks and Recreation character played by Amy Poehler, who also wrote the show, has written America a letter in the wake of Donald Trump's incredibly surprising victory in the 2016 election.
In true Leslie Knope fashion, she opens the letter by talking about her best friend Ann, who she says encouraged her to write the letter.
So I sat down at my computer, cleared my head, and opened a document. Then I started crying. So I had some hot chocolate, and my close friend (Ann) rubbed my back for a while, and I got myself together, and sat down. And started crying. Then more Ann comforting me, and more hot chocolate, and back and forth like that for about six hours or so, the chain of hot-chocolate-and-back-rubs only interrupted briefly when I had to run to the store for more hot chocolate packets ("Just give me all of them, all the boxes," I remember saying, through tears, to a very scared stockroom boy) and now I am ready to go.
Knope goes on to recount a story about her fourth grade social studies class. The teacher taught a lesson that involved a class election between two fictional candidates. One student introduced a third candidate, a "T. rex named Dr. Farts who wears sunglasses and plays the saxophone, and his plan is to fart as much as possible and eat all the teachers." Dr. Farts became president of Pawnee Elementary school. The point of the lesson, according to Knope's teacher was that "people are unpredictable, and democracy is insane."
Sometimes, "you get dressed up in your best victory pantsuit and spend an ungodly amount of money decorating your house with American flags and custom-made cardboard-cutouts of suffragettes in anticipation of a glass-ceiling-shattering historical milestone ends with you getting (metaphorically) eaten by a giant farting T. rex."
She then detailed how she's gone through four of the five stages of grief, and has arrived at acceptance, to which she says, "No. I do not accept it."
While she will "acknowledge" that Trump is going to be president, she says she will not "accept that our country has descended into the hatred-swirled slop pile that he lives in. I reject out of hand the notion that we have thrown up our hands and succumbed to racism, xenophobia, misogyny, and crypto-fascism. I do not accept that. I reject that. I fight that."
She finished by addressing young girls.
And let me say something to the young girls who are reading this. Hi, girls. On behalf of the grown-ups of America who care about you and your futures, I am awfully sorry about how miserably we screwed this up. We elected a giant farting T. rex who does not like you, or care about you, or think about you, unless he is scanning your bodies with his creepy T. rex eyes, or trying to physically grab you like a toy his daddy got him (or would have, if his daddy had loved him). (Sorry, that was a low blow.) (Actually, not sorry, I'm pissed, and I'm on a roll, so zip it, super-ego!) Our President-Elect is everything you should abhor, and fear, in a male role model. He has spent his life telling you, and girls and women like you, that your lives are valueless except as sexual objects. He has demeaned you, and belittled you, and put you in a little box to be looked at and not heard. It is your job, and the job of girls and women like you, to bust out.
Leslie Knope 2020, anyone?
You can read the whole letter here.
[image via screen grab]
Follow Dana Eisenberg on Twitter.
Have a tip we should know? tips@mediaite.com