Mike Judge's Forgotten Film Idiocracy is Returning to Theaters Just in Time for the Election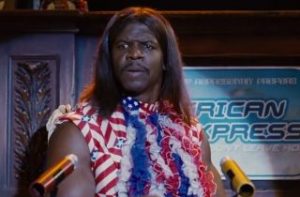 When the follow up to Mike Judge's beloved Office Space came out, hardly anybody took notice. It's probably because 20th Century Fox didn't care much. They released it because contractually they were required to, but they didn't promote it at all. The movie was a box office disappointment but in the years following its release it has become a cult classic.
Today, the film which stars Luke Wilson and Maya Rudolph in a dystopia where the average intelligence of humans has decreased significantly and the president of the United States is a former professional wrestler. Given the state of the 2016 Presidential election, the movie, which is insane, has actually started to feel kind of relevant and serious. That's terrifying.
The Alamo Drafthouse And Art House Convergence Theaters will be doing screenings of the movie on October 4th. Judge and Rudolph will be onsite to do a Q&A after the movie at the Santa Monica location. If you can't make it, the theater has suggested beginning the movie at home (or wherever you are) at exactly 7:00pm, and then tuning into Facebook live. They explained their decision to re-release the movie for one night in time for its ten year anniversary.
Ten years ago, satirist Mike Judge told of an impossible future in which our collective intelligence had dropped so low it threatened to destroy the world. In this future, America was run by a corrupt, sociopathic former pro-wrestler with severe anger management issues, and the most popular entertainment in the land was a YouTube-esque video playlist called "Ow My Balls."

Flash forward to today. We are approaching the end of the most bizarre, absurdist presidential race in U.S. history. Over the past months, thousands have questioned in social media whether Idiocracywas actually a documentary. Mike Judge's sadly prescient film has transcended its cult classic status to become a vibrant and essential facet of this election conversation.
You can Tweet questions to Judge and Rudolph prior to the event using the hashtag #IdiocracyToday.
[image via screen grab, Idiocracy]
[H/T AV Club]
Follow Dana Eisenberg on Twitter.
Have a tip we should know? tips@mediaite.com