Miley Cyrus on Bernie or Bust Types: 'If You Could Ever Consider Donald Trump, You Never Understood Bernie'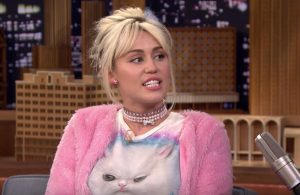 Miley Cyrus is one of the women who appears on the cover of this month's Variety. It's the magazine's Women of Power issue, and Cyrus discusses her latest roles on The Voice and in Woody Allen's Crisis in Six Scenes, coming out to her parents, and of course, Donald Trump.
Cyrus is famously liberal. She is a major advocate for marijuana- making it legal, smoking it, you name it. She was also a big supporter of Bernie Sanders. She is, however, voting for Hillary Clinton. To people who support the Bernie or Bust movement, she says, "That's f*cking crazy and you're out of your mind. It's literally pissing me off more than anything. If you could ever consider Donald Trump, you never understood Bernie in the first place."
She also made a comparison between Republican nominee Trump and another famous reality TV family. She said, "This is not a dig. But I do think there's something that goes with the Kardashians and Trump. The Kardashians are better than Trump, because they are not trying to run the country. They are just trying to be famous, and that's fine. We are obsessed with celebrity. When Trump started this, I was laughing. I thought it's not going to go anywhere; there's no way he'll be the candidate."
Cyrus also discussed her involvement with the LGBTQ community. She identifies as pansexual. She told Variety, "My whole life, I didn't understand my own gender and my own sexuality. I always hated the word "bisexual," because that's even putting me in a box. I don't ever think about someone being a boy or someone being a girl."
[image via screen grab/NBC]
Follow Dana Eisenberg on Twitter.
Have a tip we should know? tips@mediaite.com