In an angry Facebook rant last week, Democratic Massachusetts Senator Elizabeth Warren denounced multimillionaire Wall Street executive Whitney Tilson, evidently not realizing that he was a big supporter of her political causes.
"Hedge fund managers like Whitney Tilson are thrilled by Donald Trump's economic team of Wall Street insiders," Warren complained, citing a Tilson quote from a Bloomberg story on Trump's cabinet picks: "I think Donald Trump conned [voters]. I was worried that he was going to do crazy things that would blow the system up. So the fact that he's appointing people from within the system is a good thing."
"Tilson knows that, despite all the stunts and rhetoric, Donald Trump isn't going to change the economic system…" Warren continued. "If Trump gets his way, the next four years are going to be a bonanza for the Whitney Tilsons of the world – at the expense and pain of everyone else."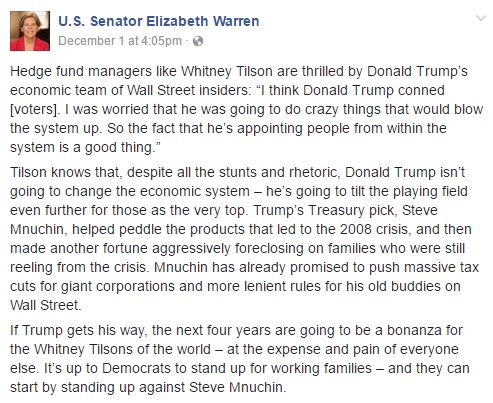 There's only one problem: Tilson isn't a Trump supporter at all. The hedge fund manager was a big-time Hillary Clinton donor, has a long history of donating to Democrats, and publicly backs Warren's controversial anti-Wall Street proposals.
Tilson told The New York Times he was not pleased. "Personally, I feel betrayed," he said. "In recent years, I've really stuck my neck out by very publicly supporting her, the [Consumer Financial Protection Bureau], and a tough regulatory approach to banks — none of which wins me many friends — and this is how she repays me."
If that weren't bad enough, Tilson's wife is also a personal acquaintance of Warren's:
Mr. Tilson's wife, Susan Blackman Tilson, was one of the students in the first Harvard Law School bankruptcy class that Ms. Warren taught, in fall 1992. The student has remained loyal to her professor; Mrs. Tilson wrote in a letter to Ms. Warren last week that she had been "cheering from the sidelines as you rose to national attention for your excellent work on behalf of consumers."
Still, Warren refuses to remove the Facebook post. In a letter to the Tilsons, an aide said they would remove language calling him a billionaire, but left the rest of the post up.
[Image via screengrab]
—
>>Follow Alex Griswold (@HashtagGriswold) on Twitter
Have a tip we should know? tips@mediaite.com