People Are Wearing Safety Pins to Protest Trump and Signal That They're a 'Safe Space'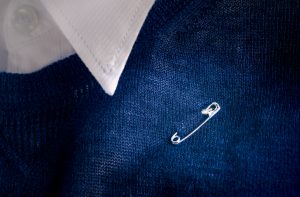 Americans on social media and elsewhere have responded to Donald Trump's election by donning safety pins outside their clothing.
The idea stems from a similar protest following the June U.K. vote to leave the European Union, known as Brexit. In the aftermath, Britons began wearing the safety pins in a show of solidarity with any of their Muslim or immigrant countrymen who felt powerless or "unsafe" in the wake of the vote.
Likewise, in the wake of Trump's elections, many U.S. liberals have adopted the idea for their own to reach out to minorities and women who feel marginalized and indicate that they are "safe" to talk to.
This is beautiful. Let's all be safe places for people who are anxious and afraid right now. #safetypin pic.twitter.com/BBeqyIIp4k

— Jamie Tworkowski (@jamietworkowski) November 11, 2016
I wear my #SafetyPin to show I am a safe place.I will protect those who are treated unfairly bc of gender, race, disability, & indiv beliefs pic.twitter.com/gn2LmcTbi5

— Sarah Lill (@SarahLill9) November 11, 2016
I'm wearing a #safetypin to tell people that I am a safe person #HopeNotHate pic.twitter.com/vJtxbQlxpl

— Teenage Closeted (@TeenageCloseted) November 11, 2016
Wearing a Safety pin- as a sign that you are a safe haven for those who don't feel safe post-Election. Moving gesture pic.twitter.com/BpIuaw0oim

— Debra Messing (@DebraMessing) November 11, 2016
Please retweet or repost on ur page so everyone can know about the #safetypin & people can keep an eye out for them https://t.co/FF30xXkknV

— emily weber (@graveflwer) November 11, 2016
#pantsuitnation #safetypin "I am an ally. I will stand for your right to be who you are. I am safe." pic.twitter.com/YPKJh5wGXX

— Jen Baldwin (@ancestryjourney) November 10, 2016
[Image via Shutterstock]
—
>>Follow Alex Griswold (@HashtagGriswold) on Twitter
Have a tip we should know? tips@mediaite.com