Poll: 'Religious and Racial Intolerance Pervades' Among Trump's S.C. Supporters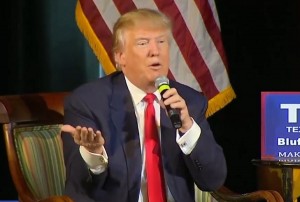 This may surprise nobody who's been following his popularity among white supremacists, but Donald Trump's "support in South Carolina is built on a base of voters among whom religious and racial intolerance pervades," according to poll results released Tuesday by Public Policy Polling.
Specifically, a "mere" 16 percent of Trump's supporters agree that whites are a "superior race" — but that rate is higher than that of any other candidate's supporters. (Fourteen percent of Trump supporters are "not sure" if whites are a superior race.)
Meanwhile, a whopping 70 percent of Trump's Palmetto supporters believe that the Confederate flag should still be flying on the statehouse grounds, and less than a quarter of them are glad the Union won the Civil War. (For a point of comparison, Esquire's Charles P. Pierce noted that "61 percent of Ben Carson's voters are glad the North won, which at least means they're paying attention to their candidate.")
Eighty percent of Trump's supporters in South Carolina are in favor of a ban prohibiting Muslims from entering the country, 40 percent are in favor of shutting down mosques in the U.S., and 62 percent are in favor of a national database for American Muslims (while 23 percent are opposed). Just for context, only one-third think putting Japanese-Americans in internment camps was a bad idea.
Although Trump has not yet announced a policy to prohibit gay people from entering the country, the poll indicates that 31 percent of his supporters in South Carolina would support such a ban.
The one department in which Trump's South Carolina fan base appears to embrace multitude and diversity is in their condiments, as tomato-based, mustard-based, and vinegar-based barbecue sauces are held in roughly equal esteem: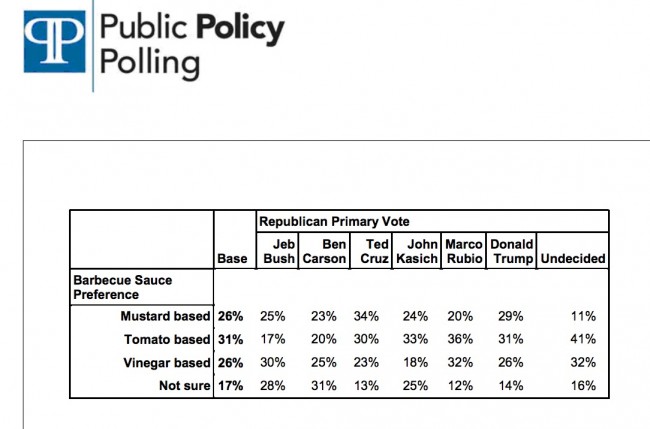 [h/t Esquire]
Have a tip we should know? tips@mediaite.com